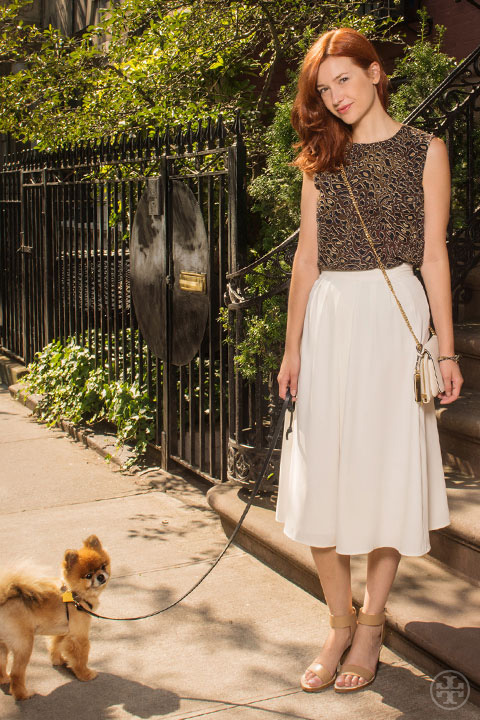 Glamour's Christina Pérez shares her favorite ways to make the timeless leopard print look chic.
My style is…
Understated and simple. I look for pieces with clean lines and character, and I love vintage items that feel timeless. I'm always a bit dressed up. I don't really do casual very well.
In this picture I am wearing…
Tory's Tanya top; my culottes are vintage from a thrift store in my hometown, Milwaukee; the shoes are Alexander Wang, and the bracelets are by my good friend Ariel Gordon. I try to wear one of her pieces every day because they're gorgeous and they remind me of how funny she is.
I love this look because…
It's polished but unfussy, and the shape of the shorts makes me feel a little Seventies.
Where I'd wear this…
Everywhere! Work, cruising around town. This outfit is very everyday-me.
Why I like leopard…
It's classic! It's the only print that feels sophisticated, sexy and timeless all at once. This one in particular is gorgeous because the color palette is unexpected.
My animal print mantra…
Just embrace it!
Favorite leopard fashion moment…
The mid-Sixties. Jackie Kennedy and Sophia Loren in their leopard coats. Such ladies.
The best style advice I've ever received…
My fiancé says his mother used to tell him to "Look sporty!" and I just love that. To me it means you should be dressed appropriately for the occasion, look pulled-together and game for anything. You're not too serious; you're on the ball! I suppose that's good advice for clothing and life. I think "Look sporty!" to myself often as I'm getting ready. Then I giggle.
My hidden talent…
I like to paint. I was a fashion illustration major. I can make a pretty mean Old Fashioned, too.
My style icon…
Gloria Swanson in Sunset Boulevard.