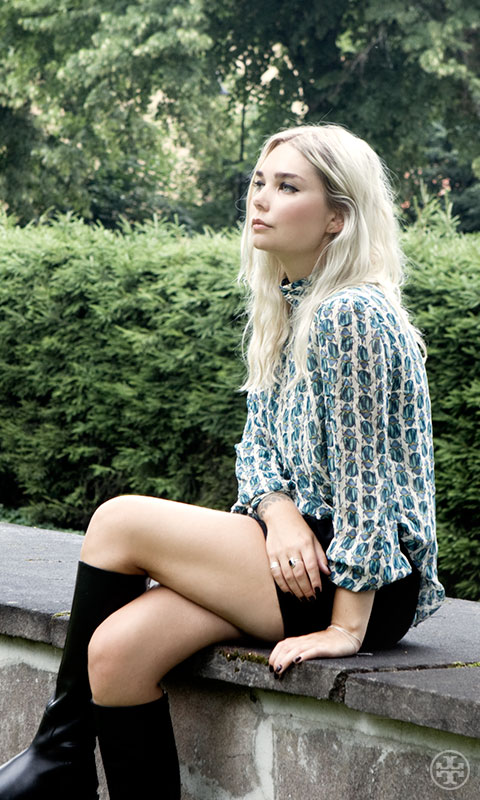 We chatted with the Co-Founder and Managing Editor of Sweden's Odalisque Magazine.
My style is…
A bit like the style of Odalisque. I like to mix vintage dresses with minimalistic jackets and contemporary shoes. My style is probably a bit ambivalent, which is great because I don't have to think about fitting into any special category.
Here I'm wearing…
Tory's Jasmine top, shorts from Acne and shoes from Nooid.
My motto for wearing prints…
You can never wear enough prints! I love to combine printed bottoms and tops — as long as you are aware of the colors you're safe.
My fashion icon…
I've always been fascinated by Edie Sedgwick, Brigitte Bardot and Jane Birkin, but my ultimate style icon is Serge Gainsbourg. When you listen to his songs, look at the way he dressed, think about the life he lived and the people he met, then you will understand why.
Best beauty advice I've received…
Less is absolutely more. Nobody likes a scarecrow.
Stockholm style is…
Very clean and trend-aware. Scandinavians have a great sense of style and the people of Stockholm probably do it best. In a typical stylish Swedish woman's closet you will find a pair of black skinny jeans from Acne, a leather biker jacket from BLK DNM, shoes bought at & Other Stories and tops from Rodebjer and Dagmar.
If you're visiting Stockholm…
I think you would get the best experience of Stockholm while walking around among the islands in the city. If you get tired of walking you can take the boat to see the archipelago or have lunch in the beautiful garden of Rosendal. Fan or not, you do not want to miss the new ABBA museum. :)
Odalisque is…
A visual platform about fashion, beauty and the arts. My sister Sandra and I created it because we felt something was missing in the fashion industry and we wanted to set our own rules and standards. We aim to inspire.
Aside from the magazine, I also…
Work as a makeup artist and sometimes do illustrations. As you can tell I love working with my hands — it doesn't matter if I'm working with eye shadows or felt-tipped pens. Now and then I also do some styling. One of the best things about having your own magazine is that you can do a little bit of everything, as long as you have high standards.