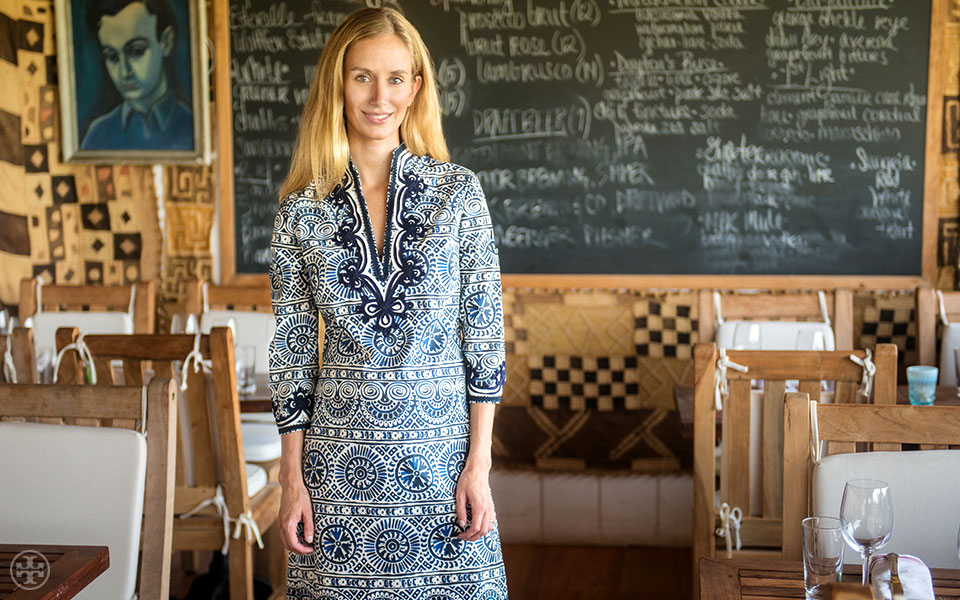 Montauk resident and founder of Guest of a Guest
Rachelle Hruska shares local secrets and her best business advice.
A perfect Montauk day…
Starts off with a long, drawn-out morning with my family: breakfast, coffee, newspapers, books and finger paints. The best mornings are the ones where I actually get to finish a newspaper in its entirety. Then we all walk to check the surf together — a typical sunny day means beach time, nap time and long walks together. If I'm lucky, I will get a tennis game in with my husband during my son's nap time.
And night…
We are very low-key on the weekends and most nights have an early dinner with family and friends. If we don't feel like cooking, we head to The Crow's Nest. I love crawling into bed early with a book that I'm into — it's my favorite way to end the day.
My Montauk style…
I tend to gravitate toward simple, no-fuss pieces that flow. Caftans and scarves are some definite staples of mine — both work well with a growing belly like I have this summer. My favorite stores here are Share With…Montauk, Calypso and Surf Bazaar. I have yet to wear heels this season, which makes me realize I probably wouldn't make it very long anywhere else in the Hamptons…
Best place for a night out…
The Crow's Nest!
You haven't truly been to Montauk unless you've…
Hung out with the locals at the Shagwong, walked the cliffs surrounding Camp Hero, tried surfing at Ditch Plains, eaten at the Ditch Witch, gone fishing, checked out the old WWII bunkers overlooking the ocean in Shadmoor State Park, read about the Montaukett Indians, gotten ice cream at John's, had lunch on the sand at Navy Beach, eaten a "Bruce" sandwich from the health food store, biked to the lighthouse or visited at least one of the "Seven Sisters" houses.
My advice for weekend guests of guests…
If you come to our house and feed us, you will always be welcome back.
The best business advice I've ever received…
"Keep moving forward." I've received versions of this from countless people, but my husband is a strong believer in just getting things done and not allowing petty annoyances to keep you from progressing. I've had to work on not overanalyzing every single decision because, in the scheme of things, many things that you think are huge problems to solve are really just small pieces of a much bigger puzzle you can't see clearly at that moment. Also, find something that you really love to do — then it won't feel like work.
The most exciting part about owning my own business…
I love being in a position to meet incredibly interesting people as well as the ability to choose the people I get to work with each day. There is also something incredibly freeing about owning your own schedule.
And the most challenging…
The enormous pressure associated with being responsible for everything and everyone. I feel personally responsible for all of my employees, and at times that can become a rather heavy load. Also, I think I work much harder because it's my company. It is sometimes very hard to disconnect.
I overcome this by…
Trying to find and hire the most capable people. From there, it becomes easier to delegate tasks. The people on our team are everything, and I do my best to make sure they are motivated and excited to be here every day.
My advice for new or would-be entrepreneurs…
Love what you do, otherwise it's just not worth it. Then find people who have succeeded in your space and ask a lot of questions. When I first started my site in 2007, I reached out to Lockhart Steele, the founder of Curbed and Eater. He met with me and told me everything there was to know about the local blogging system. It was beyond helpful and we have since grown to be friends. Also, I figured out that the most successful and interesting people I knew were the ones that were interested in things themselves. I have since focused on maintaining my curiosity when meeting anyone new, even if they seemingly have no connection to me personally or professionally. You never know how someone might change how you see something.
My daily must-read websites…
New York Times, Wall Street Journal, Curbed Hamptons, Twitter, my sister's [private] blog.
And my favorite apps…
I spend way too much time on Instagram! Also, this summer I became obsessed with Dots. I've never once gotten into games on my phone, but Patrick Moberg's simplistic app is so brilliantly addictive, and I've wasted so much time playing it.
.