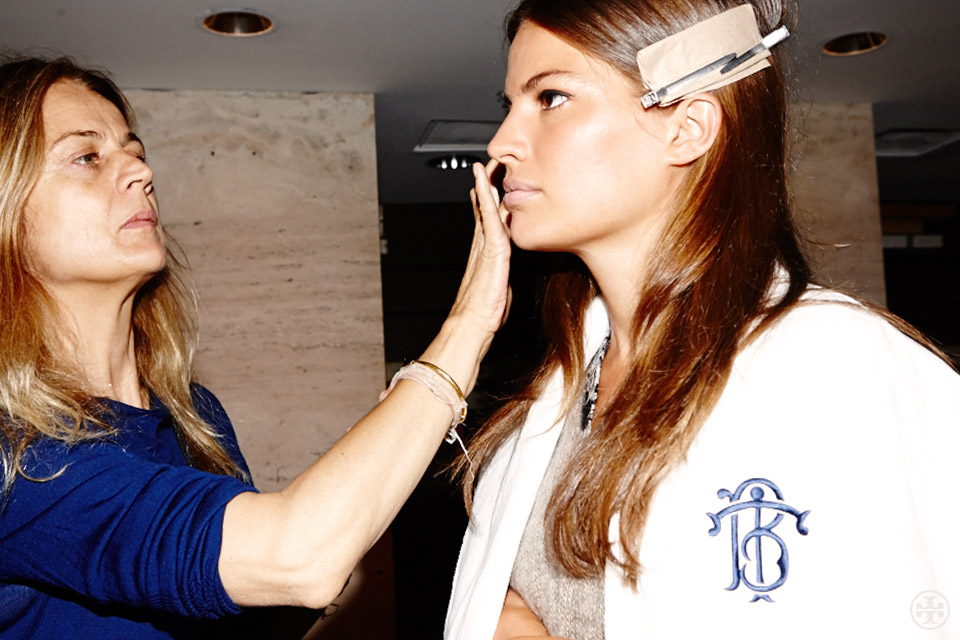 THE MAKEUP
By Diane Kendal for MAC
The Inspiration
A modern version of Brigitte Bardot.
The Look
Really fresh and glamorous. It's an easy look to make more evening — just add false lashes and make the eyeliner a little thicker.
The Eyes
Use Blacktrack gel liner on the top lash line, extend out to the sides and then shade in the contours of the eye socket with a dark espresso brown. Dust the lid with silky shimmer eyeshadow and brush the brows, filling in the gaps where needed. Finish by curling the lashes with lots of mascara on top.
The Cheeks
Just dust the apple of the cheeks with a gorgeous rosy-bronze shimmer.
The Lip
We're using a combination of two lip tints — peach and pink mixed and pressed into the lip.
THE NAILS
By Marian Newman for MAC
The Look
It's very much a Tory Burch signature look — beautiful, manicured, pretty, healthy, natural.
The Shape
Natural! Whatever suits the girl and looks best on that particular hand. Just mirror the shape of the cuticle on the edge. For example, if you have a cuticle that's a bit squarish, then do a squoval nail, which is squarish but with rounded edges.
The Color
MAC Delicate. It's a natural with a slight pink tinge — when you put it on a natural nail, it makes the pink part of your nail look healthier and the white part look cleaner.
Number of Coats
Two. You could probably get away with one, but then you might as well use a clear. And depending on your skin tone — because it's a sheer — you could do three. But always put a top coat on because the gloss of a nail polish is not the same gloss as a top coat. It needs to be super-glossy.
Insider Tip
To get this look, you should lightly buff your nails every four to six weeks to keep them smooth. That also stimulates the circulation and keeps them healthy. Keep your nails neat — not long and not bitten, obviously. But if you do nothing else with your nails, you should oil them with a good nail oil. It will improve the condition of your nails, guaranteed.