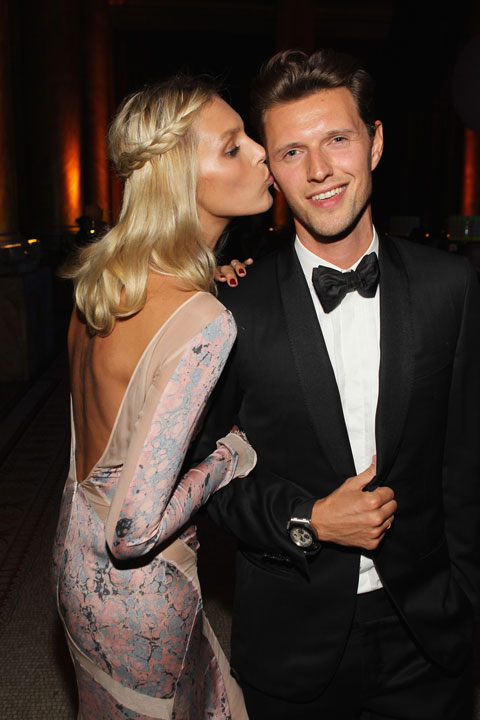 The top models and publishers of 25 Magazine, who became engaged
in Vienna three years ago, share their favorite city haunts.
First-time visitors must see…
The Naschmarkt — we both love the energy of people, bargaining, the colors, the textures… and the feeling of dragging out an amazing piece from the bottom of a pile is so rewarding. The MuseumsQuartier — especially Egon Schiele at Leopold Museum. Schönbrunn Palace. The Opera if you are into classical music.
Best time of year for a trip…
Around the holidays, Vienna is full of little Christmas markets, and the city's decorations are mind-blowing — it's very romantic during that time. They also have great ice skating paths built around the Rathaus.
Packing essentials…
Swimwear. Yes, swimwear. Vienna has amazing thermal spas with hot water springs — Oberlaa is one of them. A cocktail dress if you manage to get a ticket for the Opera.
The best place to stay…
Hotel Sacher, for its history and the famous Sacher torte. It's a bit touristy sometimes but still worth a stay. The hallways are covered with portraits of people who stayed there throughout the years, from Mata Hari, Graham Greene and Leonard Bernstein to John Lennon and Yoko Oko.
Most romantic place…
The narrow and winding roads surrounded by medieval and baroque houses, where you can get lost at night in the center of the city (first district).
Favorite restaurant…
Appiano — we recommend the Viennese schnitzel and the dessert tasting menu. Every time we pass by MuseumsQuartier we try to grab lunch at Halle — love their lemonade! And Décor — it's situated in one of the most beautiful parks, Augarten. We recommend the carrot ginger soup, but most of all we go there very often because we can bring our dog Charlie.
The local cocktail is…
Austrians love their Punsch — that's hot wine, usually mixed with fresh fruit — in the wintertime; it's served in all the Christmas markets. In the summer, Anja's favorite drink is Hugo — champagne with elderberry syrup, mint and lime.
The tourist attraction even a local can't resist…
The Prater — it's a fun park were you can enjoy a great view from the giant Ferris wheel. There's also a restaurant called Schweizerhaus, famous for its Stelzen (roast pork knuckle)!
One secret only a local would know…
The local wine is great — Vienna is one of the few cities with its own vineyards. The countless Heuriger, or wine-taverns, are in the 13th, 14th, 18th and 19th districts and each is attached to its own vineyard.