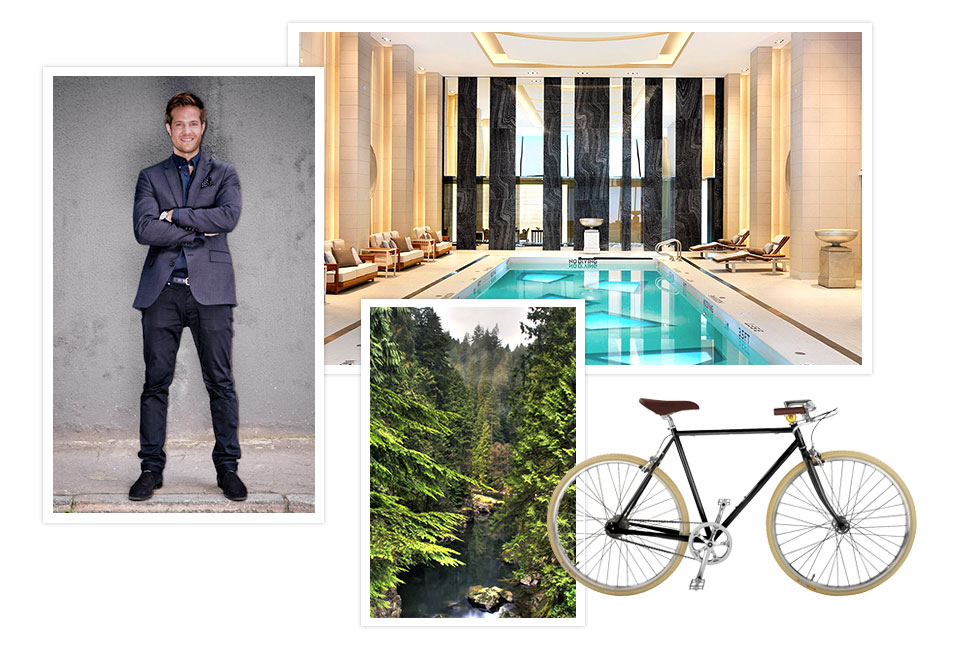 We've just opened a store in Vancouver. Here, to guide us through the city's can't-miss touchstones is British expat Oliver Walsh, Chief Marketing Officer of Vancouver's Aritzia boutique.
I love Vancouver because…
It is a grown-up's playground. It has all my key ingredients for quality of life — food, fashion, culture, outdoor activities, smart people… and is surrounded by spectacular mountains and the sea. It's pretty easy to call home.
My ideal day in the city includes…
A sunny day spent outdoors with my family, including most of the following: coffee from 49th Parallel; pottering around at the Granville Island farmers' market; sundowners overlooking Spanish Banks Beach, and dinner at L'Abattoir.
I always tell visitors to stay at…
The Rosewood Hotel Georgia.
And go to…
Drinks overlooking the city at Reflections and dinner at Hawksworth Restaurant — some of the best cooking in North America.
Favorite street…
Water Street in Gastown. It's the part of Vancouver with the most edge and feels like being back in Shoreditch, London. Check out Roden Gray for fashion for the guys and Inform Interiors for design classics.
Best quiet dinner spot…
Cioppino's — the best Italian in town, with the best scene, thanks to the proprietor and chef Pino who's on hand every night.
Something only a local would know…
Despite all you hear, it doesn't rain that much!
Under-the-radar neighborhood…
South Main is the heart of hipster culture in Vancouver (record stores, coffee shops, boutiques, live music clubs), but just a few blocks east, amid residential houses, sits the wonderfully discreet Le Marché St. George. Head there for Sunday brunch with the papers.
If you only have a day in Vancouver…
The sun's out, you're with someone you like — why not do something you wouldn't normally do? Get hold of a bike from Reckless Bike Stores, grab a decent bottle of wine, then head off 'round the sea wall — Yaletown, Stanley Park, the Aquarium… Stop en route for sushi at Cactus Club English Bay. Laughs guaranteed.