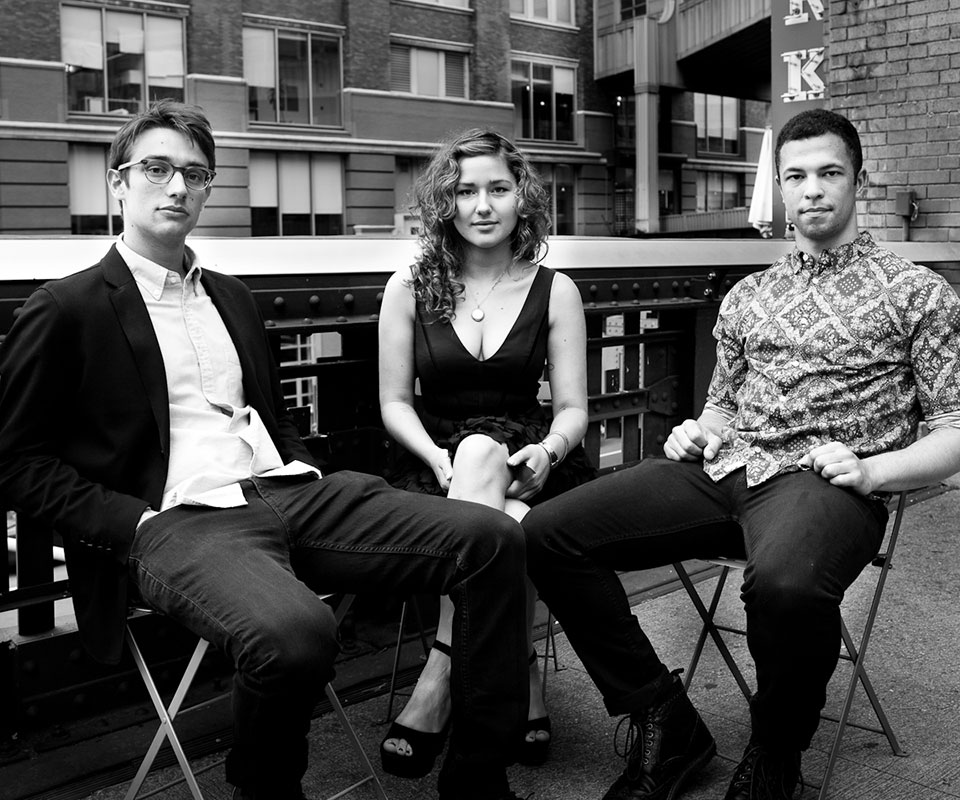 San Fermin bandleader Ellis Ludwig-Leone and lead vocalists Rae Cassidy and Allen Tate, above, talk guilty pleasure music and the best album of all time.
Inspiration behind the name…
ELL: San Fermin is the name of the festival known for the running of the bulls. There's something totally ridiculous and reckless but also kind of heroic about it. It's about people trying to feel alive.
How we met…
ELL: Allen and I have been best friends since we were fifteen, when we met at a summer camp at Berklee College of Music. The rest of the band has been pieced together in the normal way… friends of friends, fellow classmates of mine at school, that kind of thing. Our guitarist Tyler actually was Allen's guitar teacher at NYU before we invited him to join the band, so that's probably the most random connection.
Our sound is…
ELL: Big. We tour with eight musicians, but there were over twenty on the record. I tend towards the grandiose, so even getting it down to eight was hard. We have trumpet and sax, a violinist who also sings, two lead vocalists, guitar, drums, and me on keyboard, so we can make a wide range of sounds. It keeps it interesting.
The inspiration for structuring the album as a dialogue…
ELL:
I wanted to write a record that was true to my state of mind at the time. Just getting out of school, it can feel like every decision you make has these far-reaching consequences for the rest of your life. And there were a lot of things that I felt kind of two ways about, romantic love being a big one. I created the characters so they could sort through those things for me; I could push them in whatever direction without having to commit to that direction myself.
My favorite conversation-starter…
AT: "What's something you're dying to do or a place you're dying to go?"
RC: "So, that Frasier Crane…"
Favorite film, TV show or book for dialogue…
ELL: The Wire, for sure. Grand in scope but colloquial in delivery
AT: The Wire. Very thoughtful dialogue impressively delivered in plain language
RC: For film, Moonstruck; for TV, Frasier; for books, The Thief of Nothing
My stage style…
ELL: Slightly formal, a lot of collared shirts and cardigans, mostly in greys and navy blue, with skinny jeans and boots
AT: Put-together but not stuffy. I'm a sucker for a good pattern or print.
RC: Disney movie meets dominatrix
My greatest musical influences…
ELL: Sufjan Stevens, Miles Davis, Charles Ives, Paul Simon, Nico Muhly, Benjamin Britten, The National, too many to count!
AT: Stevie Wonder, Johnny Cash, The Strokes
RC: Early Ella Fitzgerald, Helen Forrest, Danny Elfman, Rufus Wainwright, The Beach Boys, The Strokes, Django Reinhardt
Best album of all time…
ELL: My favorite is probably still Illinois by Sufjan Stevens. But In a Silent Way by Miles Davis comes close.
AT: Impossible to pick, but but my longest-running favorite is probably Stevie Wonder's Talking Book. I can remember my Dad playing it in the house when I was four or five years old and I still love it.
Guilty pleasure music…
ELL: Nineties piano rock
AT: Anything that I can belt in an obnoxious falsetto in the shower
RC: The Legend of Zelda original soundtrack
What's next for San Fermin…
ELL: We're touring until mid-November, and then we're going to do some recording for the second record before heading back out on the road in the spring.