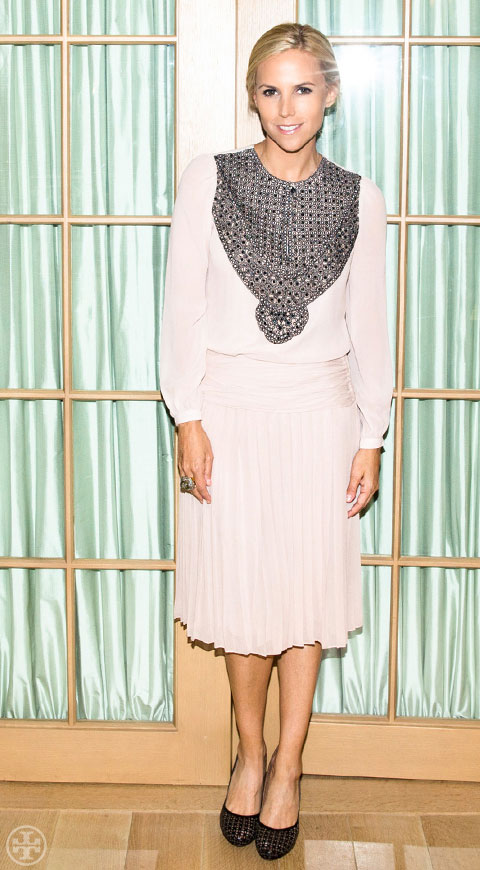 What do you love about holiday cocktail style?
It's festive, a little glamorous and always sophisticated. I love the touches of shine throughout. And it's a great time to show off the accessories, too.
What are you wearing in this picture?
I'm wearing our Reese tunic and Elisabeth skirt. It's a great cocktail-party outfit — polished and pulled-together yet effortlessly chic. And the look is really versatile. In addition to the dressy combination here, I can dress down the top with a great pair of jeans or pair the skirt with a blouse for the office. The combinations are endless, and great year-round.
What's the color of the season?
Blush — it's one of my all-time favorite colors. Pretty, feminine and flattering on everyone. Plus, the color's a little unexpected when it comes to eveningwear and goes really well with black, which will always be a classic.
How do you accessorize for evening?
Think subtle shine that draws attention to one particular piece or area — a neckline, a hem, a heel, etc. We have some great heels topped off with crystal bows and a fun mini bag covered in intricate floral pailettes. For even more discreet touches of shine, I'd recommend our strappy sandals edged in gold. And don't forget the jewelry — chic drop earrings here or a bold bangle there makes the perfect finishing touch.
What makes a great holiday party?
Good food, of course. Good music — start off mellow and switch the beats as it gets later. Décor, which includes everything from table to flowers. I love adding a personal element like monogrammed linens or vases I've found in my travels. It makes for a great conversation starter — flowing conversation is integral to the perfect party, too. Last but definitely not least: friends and family.