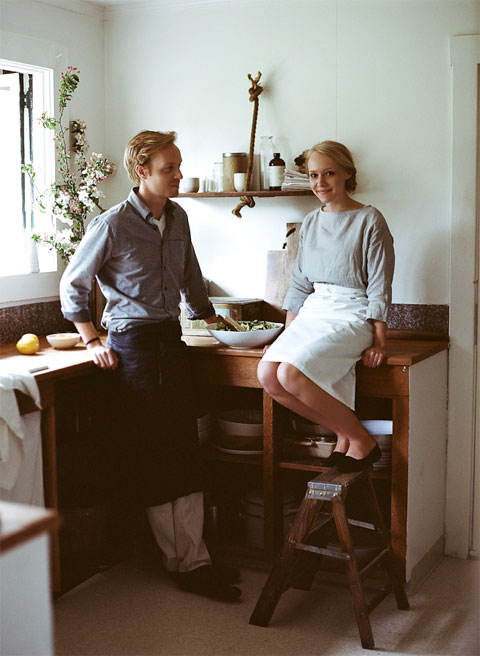 We prefer small gatherings because…
KW: In casual get-togethers, all hands are on deck, helping and having a task to do, like slicing veggies, while also making small talk… You're more comfortable and then the small-talking turns into more substantial conversations.
Favorite dish to make for others…
NW: I enjoy making the Four Corners Lentil Stew (p. 123 of the cookbook) because it's quick and easy, tasty with lemon juice, ginger and cumin, and super-filling with the lentils and rice. It's a perfect winter meal.
KW: Different variations of salads. Right now I love anything with fennel.
Go-to table setting…
KW: Linen or cloth napkins will always be around. We make messes and have stacks of these all around the house! We'd have lots of trash if they were disposable.
Prepping ritual…
NW: I like finding ways to get everyone involved with the meal preparation — setting the table, cutting vegetables and making drinks. The meal is more enjoyable for everyone after pitching in.
KW: I either put a podcast on, or sit with my thoughts and let my mind unwind after a busy day.
Favorite family recipe…
NW: I have a soft spot for both of my mom's contributions to the book, Vera's Buns (p. 292) and Almond Sugar Cookies (p. 296), because they're things she made all the time while I was growing up. She still sends me a package every few months with those sugar cookies wrapped in tissue paper.
KW: My mom used to make us Dutch babies on our birthdays. This is such an easy and filling (and decadent) breakfast. It makes any day special.
When having guests over but don't feel like cooking…
NW: I order takeout Thai or Vietnamese food and pick it up on my way home from work. Nobody has ever complained.
KW: Arrange a potluck.
My dream guests for a small gathering…
NW: Wendell Berry, Margaret Visser and Alice Waters, because I would love to hear them critique the meal and muse on modern agriculture, dinner rituals and sustainable at-home cooking.
KW: My bestest friends and family.
The inspiration behind Kinfolk…
NW: We wanted something casual and easygoing, unlike the traditional entertaining and cooking magazines we'd see at grocery stores. We were more interested in the social aspects of entertaining: the people, friendships, conversations and traditions.
The story behind the name…
NW: The magazine explores meaningful ways to spend time with the people we love — our "Kinfolk."
Most exciting part about owning your own business…
NW: Dreaming of new projects.
KW: It's great to be able to float around and help out in the areas of the company that need attention and not feel pigeonholed into one area.
And most challenging part…
NW: Email inbox.
KW: We get thrown into situations and have to learn and work our way out. The learning curve is severe, but rewarding in the end.
For more features from our Food Issue, click here.