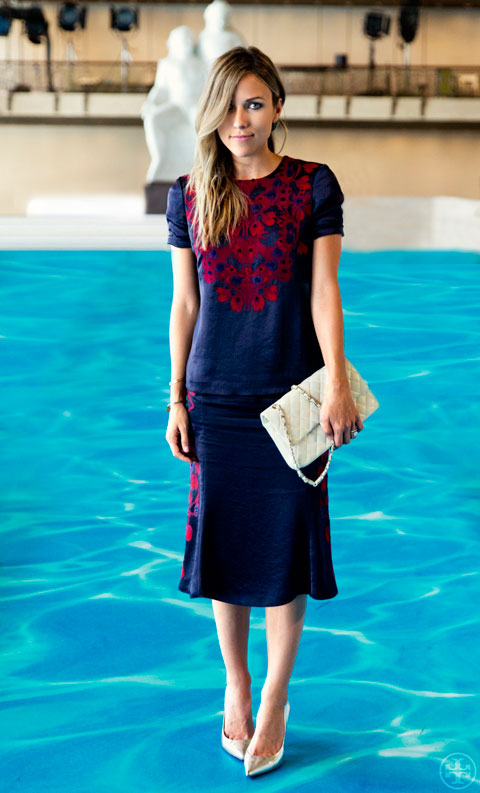 The Texas-born, L.A.-based Damsel in Dior blogger, here wearing Tory's Tia top and Uma skirt, shares her style secrets and cocktail party how-tos.
My style is…
Easy, transitional and girly with edge.
Best style advice I've ever received…
My mother always taught me that the way we dress alters the way we live our lives. Select an outfit that dresses you for the life that you want to have.
Before Damsel in Dior…
I was frustrated with seeking ways to express myself creatively, I didn't have a job that I was into and I would brush off dressing because I didn't want to try. One day I had an epiphany in a dressing room at H&M when I tried something on that made my heart flutter. I asked myself, why couldn't I feel this way every day?
And then…
I made the choice to put effort into the way I dress — my goal was to transform from a damsel in distress to a Damsel in Dior. "Dior" to me represents a feeling — that you are dressing yourself, arming yourself, to accomplish anything you set out to do.
Favorite damsel in fiction or film…
Diane Keaton in The Family Stone
When dressing for a cocktail party…
Keep it simple. Don't treat cocktail parties as a time to bust out the latest trends — all it takes is a fun accessory to bring a dress into cocktail-party mode.
Favorite cocktail conversation starter…
"Do you watch Downton Abbey?" If they don't, I find out which show we do have in common.
My perfect cocktail… 
Belvedere Red vodka, black peppercorn syrup, lavender honey and fresh ground pepper — a.k.a. the "Poseidon" from Catch NYC.
My style in Texas vs. L.A.…
In Texas, you will find me wearing skinny jeans and a t-shirt. L.A. is pretty laid-back as well, but I dress up my look by tossing on heels and a blazer over the shoulders.