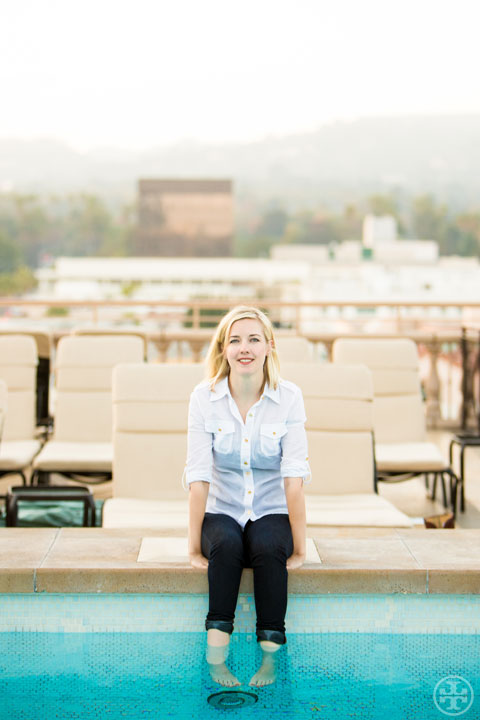 We dished improv and comedy with the Parks and Rec writer — who also happened to write the screenplay for The Heat.
The comedy bug bit…
In college. I joined a couple of comedy groups and it was the first thing I wasn't lazy about. It was the opposite of every piano rehearsal where I'd try to fake my death to get out of going. I'd walk across campus late at night in the winter to go to rehearsal just excited about it. In hindsight that was dangerous.
My comedic heroines…..
When I started taking improv classes in NYC I'd watch Amy Poehler do ASSSSCAT every week and you really just don't get a better role model than that. Also my parents took me to see Ellen DeGeneres when I was 12 and I had never laughed so hard in my life. The list goes on but I'll stop. But Julia Louis-Dreyfus is amazing.
A typical day in the Parks & Rec writing room involved…
Discussing stories, pitching jokes, talking about Game of Thrones and heated arguments about what we were ordering for dinner.
The best comedy (you might not know) on television right now…
Key and Peele! Jordan Peele and Keegan-Michael Key were on the cast of MADtv when I started working there and they made everything funnier and also happen to be the nicest people on the planet.
The film or show that changed my life…
Tootsie is an example of how to make something great. That movie could've been done so terribly, but all the thoughtful, smart choices make it awesome.
Best writing advice I've ever received…
To worry about the story first and the jokes last. I learned that from Greg Daniels and Mike Schur at Parks, but I don't know who said it to me first so let's imagine they said it in unison.
When I get writer's block…
I have a snack and watch something that's not at all a comedy like Law & Order.
Three things every would-be comedy writer should know…
You have to let yourself be bad before you can be good. It takes a really, really long time before anything happens. And lastly, try to avoid a sense of entitlement in this field. With that comes bitterness and getting distracted from just doing the best work you can. Don't worry about who got what or what you think you deserve, just focus on the work and be hopeful.
Most memorable Upright Citizens Brigade moment was…
A 3 AM show during the Del Close Marathon called Match Game 76 that always becomes pure mayhem. In this particular show, Rob Riggle as Burt Reynolds assaulted another performer, Curtis Gwinn, who was also playing Burt Reynolds. I just remember watching Burt Reynolds fight Burt Reynolds, and feeling very happy at how ridiculous this place was.
The key to good improv is…
A good Burt Reynolds impression. Serious answer is supporting each other's ideas.
If not a writer, I'd be…
A detective of some sort.
For more features from our L.A. Issue, click here.