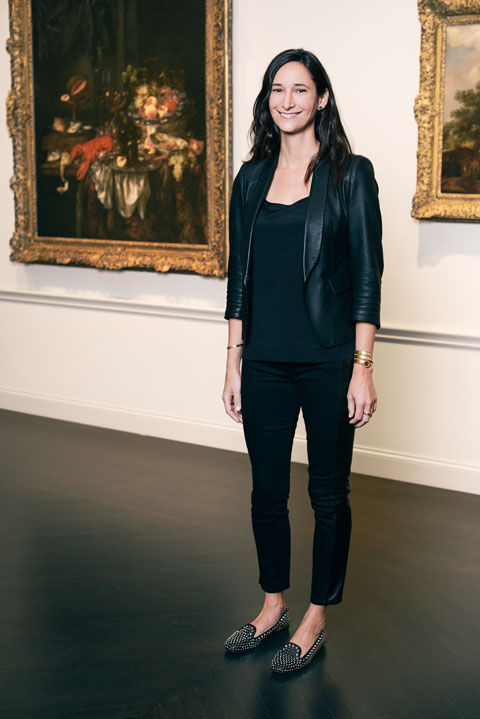 The Founder of online art initiative ForYourArt gives us a view into her world, from the museums you can't miss to the places where the power brokers convene.
In three words, the art scene in L.A. is…
Fluid, thoughtful and expansive.
L.A. artists really inspiring me lately are…
John Baldessari, Barbara Kruger and Suzanne Lacy — they represent the incredible community of artists here in Los Angeles who participate as teachers and patrons.
When dressing for gallery openings in L.A., I always…
Wear flats. People actually do walk in L.A., and you never know where you might end up.
The canteens of choice for L.A. art-world insiders are…
Mandrake, a bar in Culver City. Ammo on Highland. And gallery dinners at the Chateau Marmont are always a hit.
Must-visit museums…
LACMA, The Getty, MOCA and Hammer Museum. If you really want to enter different, uniquely "L.A." worlds, the Getty Villa and Huntington museum and gardens are essential.
And galleries…
Culver City, mainly on La Cienega between Venice and Washington, is a great place to walk around. Also check out L.A.'s home-grown powerhouse gallery Regen Projects — the 20,000-square-foot space includes an outdoor sculpture area and allows for monumental-scale exhibitions, a clear signal that Hollywood is cemented onto the international art world map.
Under-the-radar spots for the art lover…
Hannah Hoffman Gallery — designed by Predock Frane. Just up the street, it's easy to drive past Redling Fine Art, but Erica Redling consistently represents L.A.'s next generation at high-profile art fairs like Art Basel Miami and Frieze New York. The gallery's artists include important emerging figures such as Liz Glynn, Jason Kraus, and Erlea Maneros Zabala.
And don't forget to keep an eye on…
Downtown, as more galleries pop-up — especially around the Arts District, near Mara McCarthy's gallery The Box. I often visit 356 S. Mission Avenue – a space initiated by the artist Laura Owens and New York dealer Gavin Brown with a great bookstore, Ooga Booga #2, that carries artist editions and objects.
The exhibit I'm most looking forward to this holiday season…
LACMA's Agnès Varda in Californialand. I rode in a cab with Varda once when I was in London for the Frieze Art Fair and was starstruck. Although she had no professional film training, she has been called the "godmother of the French New Wave" and describes her style as "writing on film."
My favorite thing about working with artists is…
Helping them to realize their vision. The best artists know when to make compromises, but even more importantly they know when not to.
Best career advice I've ever received…
Karen Marta, the editor and art book expert, told me once that a career, like a painting, is made up of many small brush strokes that eventually create bigger gestures. Progress builds in layers and the key thing is to pay close attention to what is right in front of you, and always execute it as well as you possibly can.
L.A. secret only a local would know…
Never take the freeway.
For more features from our L.A. Issue, click here.