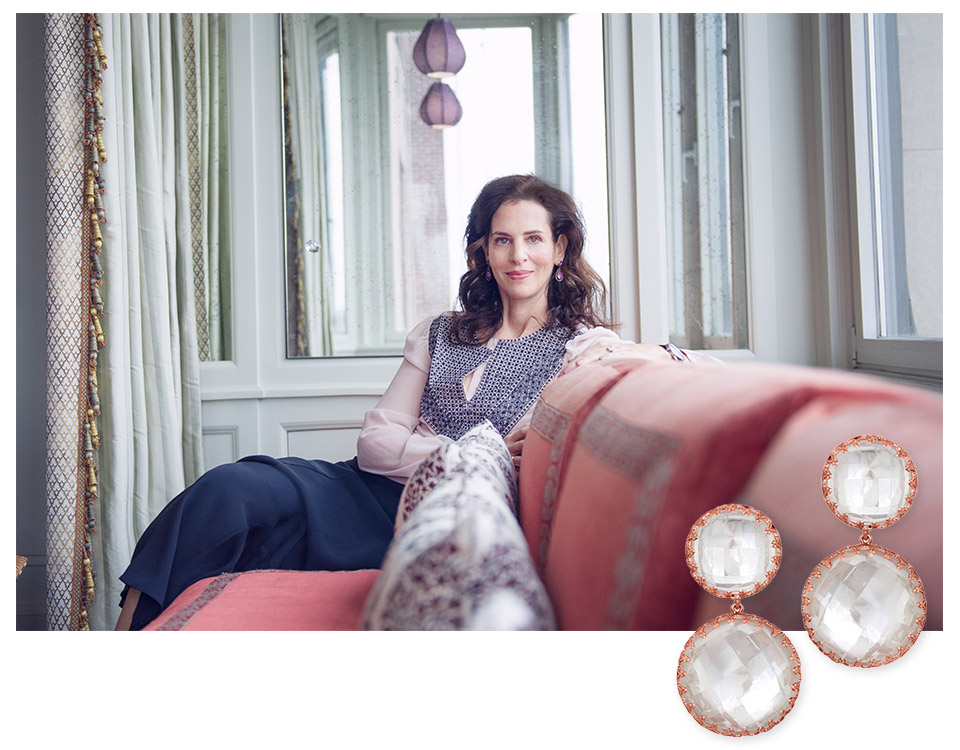 In need of a little jewelry 101 when it comes to gifting? Here wearing Tory's Reese tunic,
jewelry designer Emily Satloff of Larkspur & Hawk shares her advice.
Best gift to give the casual jewelry lover…
Earrings, like our Olivia (above, inset), which are great for every day, and Jane, which are true day-to-night earrings — the drops are removable.
And the serious jewelry collector…
Rivière necklaces — they're elegant and timeless. One of my favorites is our Annabel rivière; nothing speaks to the holidays like that does.
Best gift ever given…
A Franck Muller Roulette watch for my husband for our 20th wedding anniversary. He likes to gamble and we had both, at one point, admired the watch. For four months, I feverishly searched on a daily basis. The watch finally came and my youngest son — who's a watch person — goes, it's a fake. I contacted the dealer and thankfully it wasn't — they had made a slight change back in 19-whatever.
And received…
Our 20th anniversary comes and my husband and I exchange our gifts. He gives me this card with a roulette wheel on it. I knew right away he had given me the same watch. Mine is a slightly smaller version with the red band.
Jewelry staple every woman should have…
Earrings. Women don't wear necklaces every day, but they'll wear earrings. They can really brighten a face — not unlike makeup. And with the foiling technique used in our earrings, you're really going to sparkle.
My top jewelry-buying tips…
Buy jewelry because it suits your skin color and face shape — not because it's trendy. For example, if you have a rounder face, you'd probably like a more elongated stone like a pear or an oval.
Don't worry about matching an outfit. You want a piece of jewelry to really suit you so it becomes part of you, almost like a scent.
Don't overthink it. It's not going to be the only piece of jewelry you're ever going to buy so you should be a little bit impulsive and excited about it.
Don't save things; wear things. It's like wedding china — what are you saving it for?
The jewelry bug bit…
When I was a really little girl. My grandmother on my mother's side had this special box of jewelry and, when her granddaughters were old enough, we were allowed to choose what we wanted from it. I was probably nine at the time and it was a magic box to me. I love things that sparkle, but the sentimental part of jewelry always interests me.
And from my grandmother's box, I picked…
She had given me a charm bracelet as a baby, so when it came time, I chose from the charms my grandfather had given to her. And a regards ring that featured a ruby, garnet, amethyst, ruby and diamond — [the stones for] which spell "regard."
My jewelry icon…
Probably someone like Marie Antoinette. No, I take that back — it's Catherine the Great. Russian jewelry from that period is to die for.