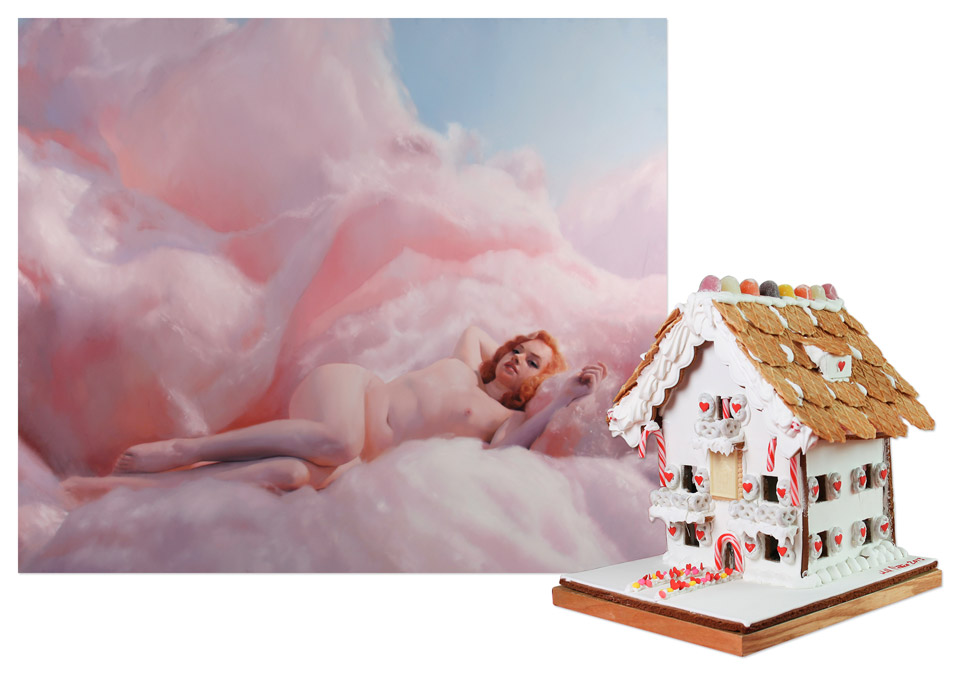 Baking guru Eleni Gianopulos of Eleni's New York tapped five tastemakers to design one-of-a-kind gingerbread houses, using her Color Me! Gingerbread House kit, with all proceeds benefitting art nonprofit RxArt. Above, artist Will Cotton's Cotton Candy Sky (Mona) painting and cookie creation and, below, Eleni's helpful tips to making your own sweet home… at home.
1. Icing 101
Use tons of powdered sugar (10X) to get the icing as firm as possible when building and assembling a gingerbread house. How to test: When holding a spoonful of icing, the icing should be so firm that it does not fall off the spoon.
2. Candy Decor
Get creative with candy! Anything and everything is fabulous. I prefer colorful gumdrops, peppermint twists and licorice. If you're decorating with young kids, be sure to stay away from candy that could be a choking hazard.
3. Frosting Tips
If you want to color your frosting, be prepared to use a large quantity of food coloring. It tends to take a lot to achieve deep rich colors.
4. Last But Not Least
Best tools for gingerbread houses? Make sure you have an extra set of hands to hold the house. Patience is a must — don't rush the process or your amazing creation may collapse.