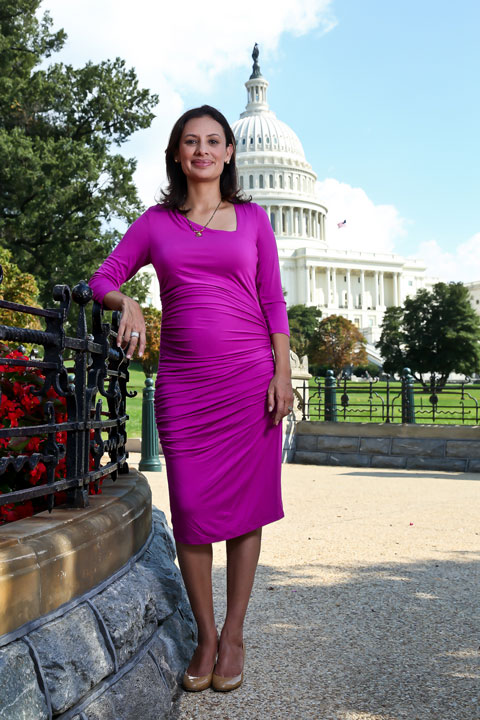 The CEO and President of Voto Latino and MSNBC Contributor shares the secrets to her city — where we've just opened a new store.
Washington, D.C. is…
A dynamic, energizing city where people convene to impact their world.
First-time visitors must see…
The Lincoln Memorial, because no matter how many times I visit, I always feel inspired.
Best place to make a difference in D.C.…
Martha's Table
Best bookstore or library…
Kramerbooks, hands down.
Best place to view public art…
The Logan Circle and Dupont Circle art walks that happen once a quarter — galleries and art studios are open to the public.
Favorite place to power-lunch/dine with colleagues…
The Jefferson's Greenhouse for lunch is a must.
Favorite place to dine with my family…
For a date with my husband, Blue Duck Tavern for excellent food and a wonderful wine selection. If we're with our one-year-old, then Founding Fathers it is. I never knew cornbread could taste so good.
Favorite place to take my daughter…
Meridian Hill Park on a Sunday for a picnic. D.C.'s artists gather for drum circles and dancing, and my daughter loves the music.
Place that has changed my life…
Working on Capitol Hill when I was fresh out of college. Capitol Hill taught me to negotiate, appreciate opposing viewpoints, and I had a front-row seat to learn from some of our country's leaders on leadership itself. It was the best first job ever!
Where I go in D.C. to be inspired…
I walk the city — that's my favorite pastime. I always discover a new restaurant, shops, galleries… or I learn a new piece of history.
Secret only a local would know…
Rock Creek Park connects the city, and it provides great bike paths, hiking and even fishing!
If you only have 24 hours in D.C., I recommend…
Brunch at Kafe Leopold in Georgetown, then walk to the Smithsonian to catch an IMAX movie — any IMAX! Then head down to the botanical gardens. After a wonderful day on the Mall, grab drinks at the W rooftop for a stunning view of the White House and the monuments. Finally, I recommend heading to 14th street and enjoying dinner at Le Diplomate.