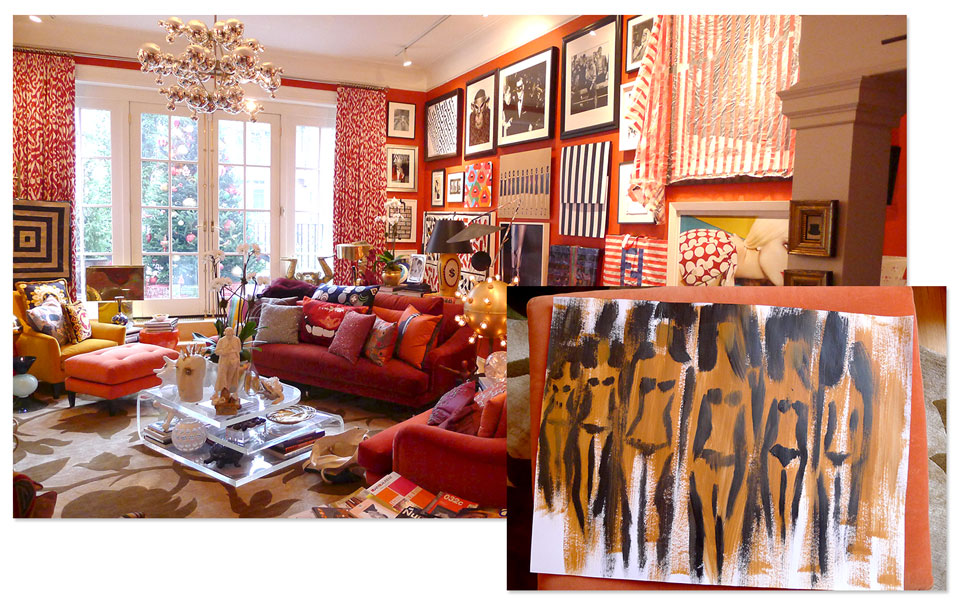 We chat with Donald Robertson — a.k.a. Donald Drawbertson — whose witty mixed-media takes on pop culture are taking Instagram by storm. Tonight, his work goes on display at Salon John Demsey (above).
I get my inspiration from…
Instagram begets Instagram. It's like an idea recharger! Endless inspiration!
As an artist, I could never be without…
#gaffertape #megasharpies and recycling. I'm all about trying to not throw so much stuff away! #wholefoodsbags make great canvases!
And as a creative director…
My kids! They are constantly rebooting my hipness index! You need to listen to everything they are into and steal their ideas. And steal their playlists!
When I get the artist equivalent of writer's block…
I have the opposite problem. People who follow me on Instagram wish I had a creative block. I am a serial poster. I have too many ideas. And getting such positive feedback from the Insta-community is like feeding a bear!
One theme I keep returning to…
I'm really into women who make stuff. They are like chic Amish people in that they are making stuff and selling it! Follow @lisamariefernandez @lulufrost and @aerin. They are all super successful and brave for hustling their wears.
Favorite people to follow on Instagram…
I love all the Brits and the Americans abroad in England. @amandacbrooks is the Merchant Ivory of Instagram. Crazy beautiful pics. Natalie Massenet's @nataporter is so cool because she really puts herself out there. She is the modern-day mag editor — biz meets voice meets editorial! I love @richardprince4 — his nurse paintings make me a bit sick, they are so good! I also follow a bunch of kid artists and do daily check-ins on all their new projects: @coulthurst and @spencerspencers.
What makes me laugh…
My son Teddy makes me howl. Mostly because he has his mother's dry sense of humor.
Most memorable paintings I've done…
My lip paintings! Giles Deacon and Katie Grand called me the day after I posted them. Giles ended up using them as prints for his Spring 2013 collection. I didn't see a thing until the show. My buddy Ariel Foxman, the Editor-in-Chief of InStyle, was sitting across from me at the show — making "proud mom face" as he calls it — and got the best pic. It was unbelievable.
The illustrator I most admire…
Tony Viramontes, a real game-changer illustrator and painter who painted fashion. I recently stumbled on his retrospective windows at Bergdorfs. When I was in Paris in the early Eighties, his Printemps billboards stopped traffic. Check out the new book that highlights his career — really great.