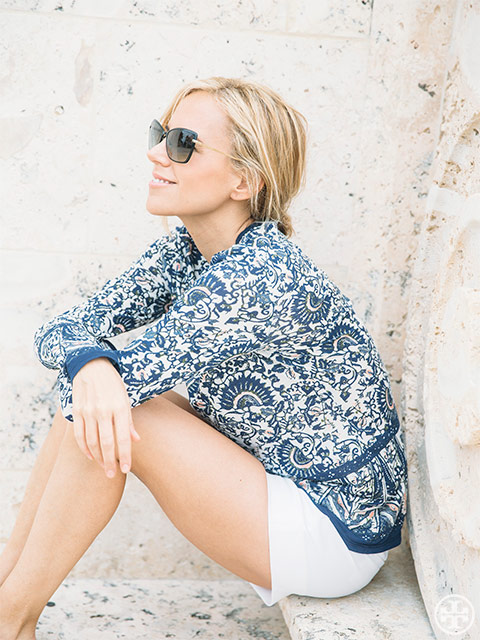 What inspired this collection?
Resort 2014
is a mix of elements — from painterly florals and Édouard Manet to my own travels and the souvenirs I've picked up along the way. We turned a straw hat I found in Morocco, for instance, into a conversation print you'll see on scarves, sweaters and bags.
What are you wearing here?
I'm wearing the Callie tee and Tessa shorts, paired with our Squared Cat-Eye sunglasses. The top features one of my favorite prints, the fan-like Madura, inspired by my trips to Morocco. We worked it into everything from tunics and surf shirts to espadrilles, bathing suits, even an iPhone case. I just love how worldly and yet modern the pattern feels.
What are the other graphics in the collection?
We have some great Impressionist-like florals. Stripes are big for us — bold stripes, thin stripes, patchworked stripes, all in navy and white for a subtle nautical feel. We did wedge sandals, loafers and chic shoulder bags in beautifully striped snake-embossed leather, which added a sophisticated spin on that classic motif.
Is it all about pattern for resort?
A lot of it is, but we have an all-white story as well. It feels really fresh right now and is a balance to the prints. And it allows you to play with textures, like with our white-on-white floral guipure lace dress.
What do you love about the season?
Resort has always been one of my favorite collections. You can layer the looks and wear them now and wear them later. This collection's really versatile — you can wear it no matter the weather… which also makes it great for beach getaways this holiday season.
Speaking of which, what are your holiday plans and what are you packing?
We're still making them! But it will be with my boys and my family. My vote is for someplace warm, in which case I'll pack our Madura caftans and swimwear, a matching tunic, day-to-night dresses, flats and a large tote for the beach, like the Kerrington or the raffia-fringe Molly. And sunglasses, always sunglasses.