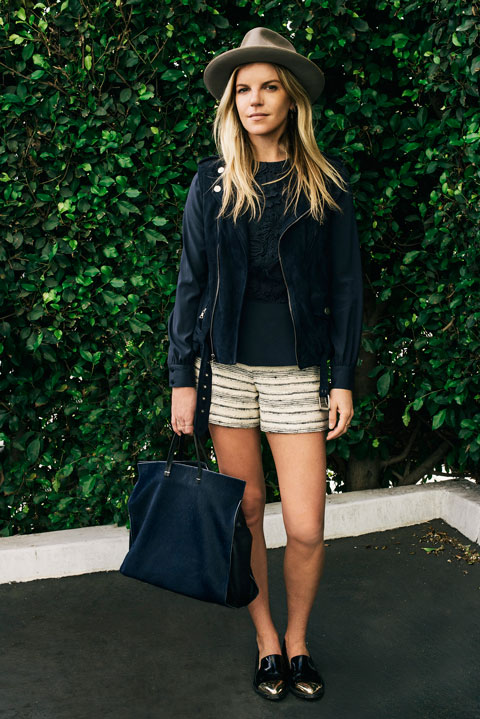 The LAVEER designer and girl on the go gives a master class on packing and turning your hotel into a home-away-from-home.
My style is…
Classic with a nomadic twist.
Here, I'm wearing…
Tory's Isabel top and Nicole short with a navy suede motorcycle vest from my collection, LAVEER. I added a great vintage hat, Clare Vivier bag and tomboy-ish loafers by Phillip Lim.
My personal styling trick…
I like to mix anything bohemian with something tailored to make my look a little more dynamic. Nothing too serious, and I like to dress in a way that carries me seamlessly from daytime into night.
Favorite travel destinations…
Towns that are off the beaten path with a yoga- and surfing-centric culture. These activities attract great people who are searching for adventure, as well as peace of mind. For New Years, I went to Troncones, Mexico.
My packing strategy and packing tricks..
Less is more! I pretty much always carry-on — shoes in first, followed by rolled clothing. I make a little mood board or color palette in my head and bring the best of the best from my closet. For example, if I am going to Mexico, I'm probably feeling prints and Baja tops. If I am going to Paris, I'm bringing a lot of navy and black.
My carry-on essentials…
Headphones, rose water, Egyptian Magic, Smartwater and magazines.
When I get to my hotel, the first thing I do…
Unpack and hang up my clothes. This creates that unwind-and-stay-awhile sentiment.
And to make my hotel room my home-away-from-home…
Le Labo Santal 26 candle and an eye mask.
The inspiration behind LAVEER…
After years of telling stories with products and styling in my former job, I always found blazers and statement jackets to be the most crucial elements to a look. Working in retail for so long, you realize the importance of being known for a specific category, which is why I wanted to start by designing the item I am most passionate about. Dreaming about those pieces I wish I had and making them!
I design for…
A woman who is searching for something sophisticated and timeless with a subtle edge. I find customers who reach out with feedback often have very demanding careers, they have their own businesses or are in a position where they are in the spotlight and appreciate the subtle updates to classic shapes — unexpected fabrications in traditional cuts.