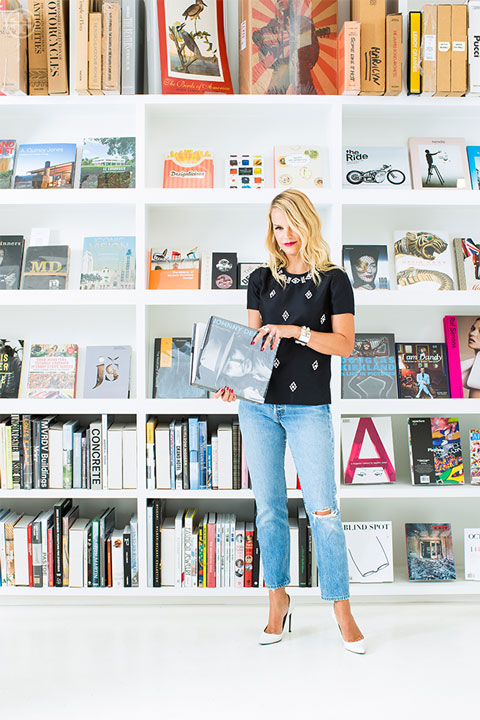 The Creative Director for Satine's private label and Co-President of nonprofit Baby2Baby, here wearing Tory's Vesper top, shares her L.A. closet must-haves.
L.A. style is…
A little more casual — L.A. girls will take a great piece and mix it with something vintage, something a little worn. It's thrown together in an easy way that looks like you may have just picked the top up off the floor, but it's paired with the freshest new designer on the bottom.
The one piece every L.A. woman needs in her closet…
A great pair of vintage Levi's that you can throw on with a great top and heels and take anywhere.
Here, I'm wearing…
Tory's Vesper top, vintage Levi's, an Hermès cuff and rings by Mannin, Neil Lane and Amulette. The shoes are Saint Laurent!
Best style advice ever received…
I once read something where DVF said "comfort is confidence" and I loved that. It doesn't mean leave the house wearing sweats. It means if you feel good about yourself, it doesn't matter what you are wearing — you will look great.
And best beauty advice…
My friend told me I looked five years younger with a side part… so I'm wearing a side part!
When designing for Satine, I always…
Drink wine and sit on the floor.
A perfect day in L.A.…
Being out in Malibu and having an open house where people just stop by all day, there's great music playing, great company, maybe some rosé; then we all end up having a big impromptu dinner at one of my favorite Malibu restaurants.
For more features from our L.A. Issue, click here.