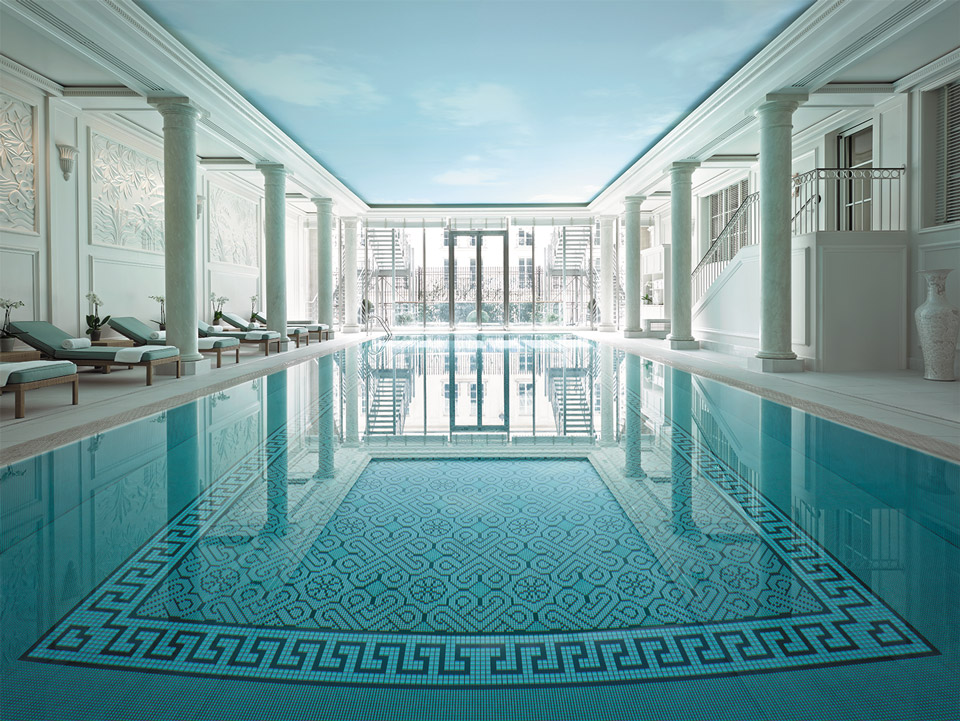 Ten indoor pools — from all around the world — that inspire reverie and relaxation in the winter just as much as any sunny summer plunge
Shangri-La Hotel, Paris
Meet the largest indoor pool in Paris, above, lush with friezes and bathed in natural light.
Wildflower Hall, Shimla, India
High in the Himalayas — 8,250 feet high, to be exact — warm water laps under chandeliers, while snowcapped mountain pines and cedars linger just outside.
InterContinental Hotel, Chicago
Legendary bathers, like Esther Williams, swam laps in this high-rise Art Deco pool, right on the city's famous Magnificent Mile.
La Mamounia, Marrakech
Inside Marrakech's most iconic hotel, you'll find ornate white marble arches and mosaic pillars surrounding calming turquoise waters.
Four Seasons Hampshire, Hampshire, England
This country house-turned-hotel outside of London houses a swimming pool covered in glass, in the spirit of an 18th-century conservatory.
Park Hyatt, Tokyo
Floor-to-ceiling windows in this 47-story-high modernist space offer spectacular views of Tokyo. (Plus, Bill Murray has a swimming scene here in Lost in Translation.)
Hotel 1898, Barcelona
Illuminated like a grotto, this basement pool features stone walls and arched ceilings that call to mind another time.
The Opposite House, Beijing
Away from the urban frenzy and under a galaxy of tiny lights, stainless steel and pool blue offer a cool contrast to the surrounding lighting — rich reds and vibrant yellows.
Berkeley City Club, California
Designed by Julia Morgan, the architect behind Hearst Castle, this Bay Area haunt boasts leaded glass windows and garden views.
The St. Regis Lhasa, Tibet
This metal-lined saltwater pool has the Midas touch: It gives the appearance of wading in liquid gold.