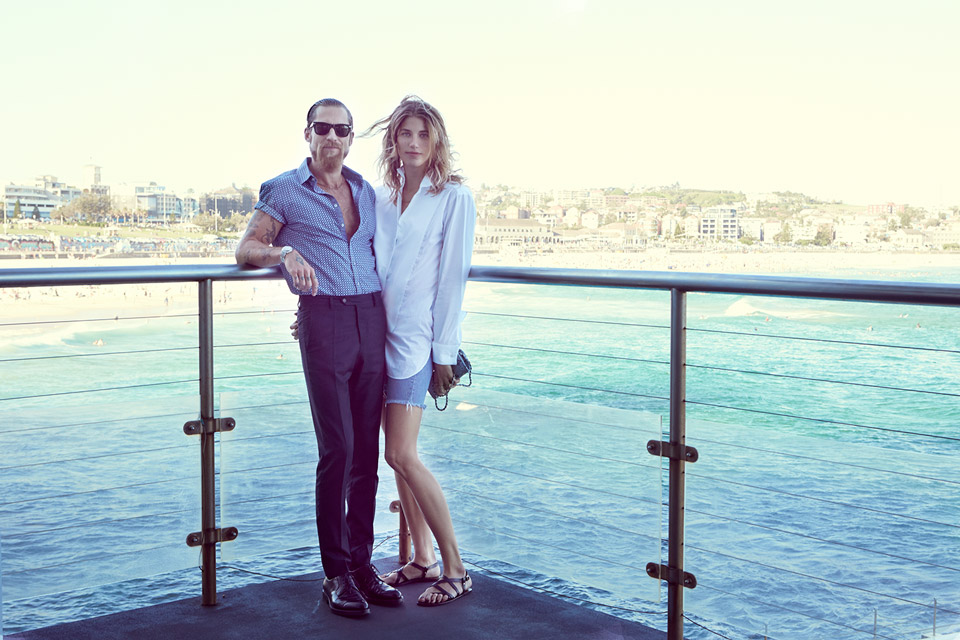 Meet fashion couple Justin O'Shea and Veronika Heilbrunner, the Buying Director and Fashion Editor (respectively) of the Munich-based online shopping destination Mytheresa.
We have been together since…
Justin:
December 2012. Hope my answer is not different than hers? I can tell I'm in trouble already, and it's only question one!
Veronika:
That's a tricky one: I'd spontaneously say a year and a few months… But we've been friends for a lot longer.
Best date…
Justin: Probably a weekend I took her to Spain. It was the first time she met my friends and really the first time we spent time together in a public place. I realized how truly amazing she was after this.
Veronika: Every time we see each other after longer than four days apart is my next best date!
Best gift…
Justin: Cartier Trinity ring, which I had engraved.
Veronika: My name written in ink on his chest just above the heart!
What we like to do together…
Justin: With work I am always traveling, so we don't get great freedom with our time together. We live in the honeymoon period — which I secretly like. Lots of weekends in different cities, which is nice as we both enjoy drinking champagne in expensive hotel bars! However, when I am home I love taking her out on the motorbike. It's a very strong feeling of closeness, riding around the countryside with her on the back. But to be honest, just cooking her dinner and lazing on the couch listening to music or watching movies means more to me than anything else we do. It seems the most normal, but it's a rare pleasure for me.
Veronika: Spending time together in our home, watching series all day and night long, drinking champagne and Justin cooking for me… as it's very rare for us to be home and alone.
What we don't like to do together…
Justin: I prefer shopping for myself by myself. Too many cooks, etc. But in general, I kind of like everything with her. As long as I can kiss her and see her face, I'm happy. I am pretty simple to please. She won't agree with that at all!
Veronika: Packing. It takes up too much time in life and works much better (and faster) under pressure.
The first time I saw him/her, I thought…
Justin: I want to take her home. Am I allowed to say that? She looked hot and I was hungover, so my mind was functioning quite specifically that morning. I hope her mum doesn't read this!
Veronika: "OMG" — I never had somebody looking so intensely at me. And I love that he still looks at me like that. Still gives me goosebumps.