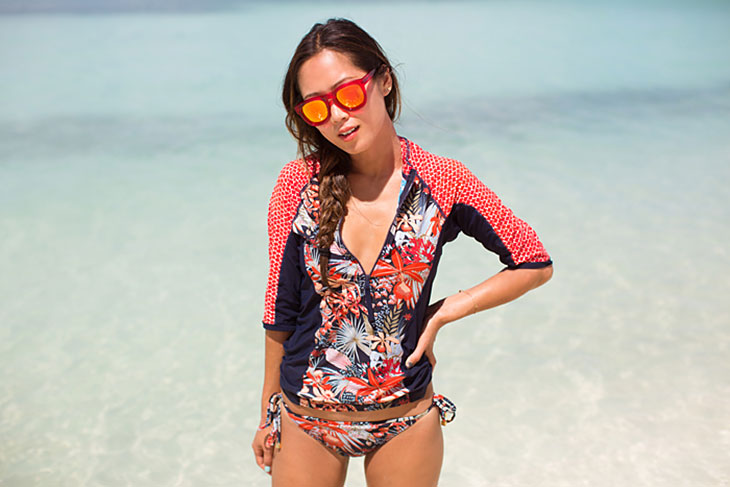 The interior designer and Song of Style blogger, wearing Tory's Calathea surf shirt
and Calathea bottom, dishes about her go-to getaway, Aruba.
Aruba is like no other place because…
It's still quite unknown. There is a touristy area, but my family and my boyfriend's family have been going for the past 10 or 15 years, and we always stay in a little house away from that.
First-time visitors must…
Definitely try paddleboarding, because the waters are really calm and the wind's good, so it's perfect for paddleboarding or windsurfing.
Secret only a local would know…
Buy groceries at the beginning of the week as opposed to the weekend because they get everything shipped or flown in. If you try to buy milk on the weekend, a lot of times they'll be out of stock.
Packing essentials…
A lot of separates, because you can re-wear them a lot. A good SPF — 50 or 70. A good moisturizer. An eye mask to cover your eyes when you're sleeping.
Surf shirt vs. bikini vs. one-piece…
If I want a tan, I go with the bikini, but if I'm just relaxing, I'll go with a one-piece. The rash guard is good for paddleboarding or to wear as a coverup.
Wearing surf shirts off the beach…
Maybe not on an average day but during vacation. I was wearing the rash guard basically almost all day, every day with denim shorts.
My insider tip to shooting beautiful vacation photos… 
I love taking beach photos because the beach is naturally so pretty. Obviously natural light, and then I try to make everything look very straight. I'm super OCD about it — if I'm taking a photo of the ocean or the beach, I make sure all the lines are straight instead of crooked.