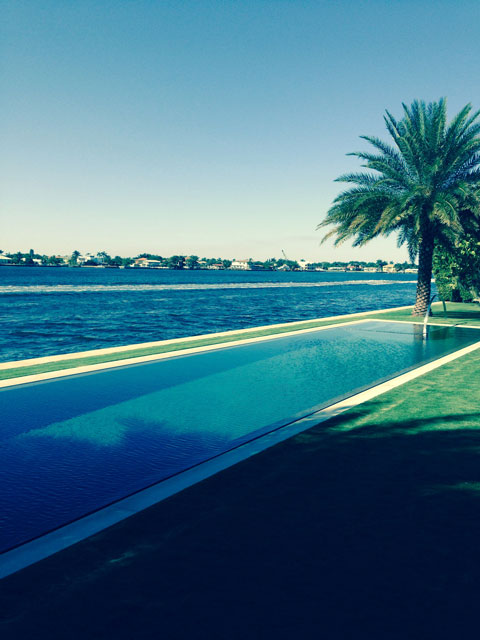 The photographer and author of Pools and its sequel Pools: Reflections shares some of her favorite designs and why.
1. Kelly Klein's vacation home on Ibis Isle in Palm Beach, Florida, already overlooks an endless stretch of water: the Intracoastal Waterway. But that's not enough watery blues for her; she also installed an elongated pool, framed by limestone coping (left). "Pools automatically make you feel serene, relaxed and away from the grind," she explains.
2. "My favorite pool strictly for unusual design is The Raleigh in Miami," says Kelly. "It's one of a kind." There's a reason Life magazine named this curvy Art Deco layout "the most beautiful pool in America" back in 1947.
3. Tom Ford's Tadao Ando-designed ranch in Santa Fe makes the cut for its "oddly-shaped" pool, which comes complete with "an architectural cement path that allows you to walk over the water." For former competitive equestrian Klein — who also has a book on horses — the fully equipped equine facility must be a bonus, too.
4. And speaking of horses… Photographer Steven Klein's Bridgehampton estate includes a pool inspired by a horse-watering trough. "It's a cement above-ground pool, very long and narrow, with a disappearing edge at the end," details Kelly. "Very dramatic as well but modern and simple."
5. "What attracts me so much to swimming pools is the color, the shape and the reflections they can mirror," Kelly explains, noting that she recently designed one for her East Hampton home that's coolly set in the middle of a natural sand dune. "You immediately feel you're far away when you lounge around it."
6. "I love any pool with a view and a drop-off edge, such as Doug Lloyd's pool in Amagansett, Long Island. It's simple, clean — but dramatic." But design is only one part of a pool's allure. "Every pool," she adds, "is individual because of the water color — when the light hits the water, it's magical."