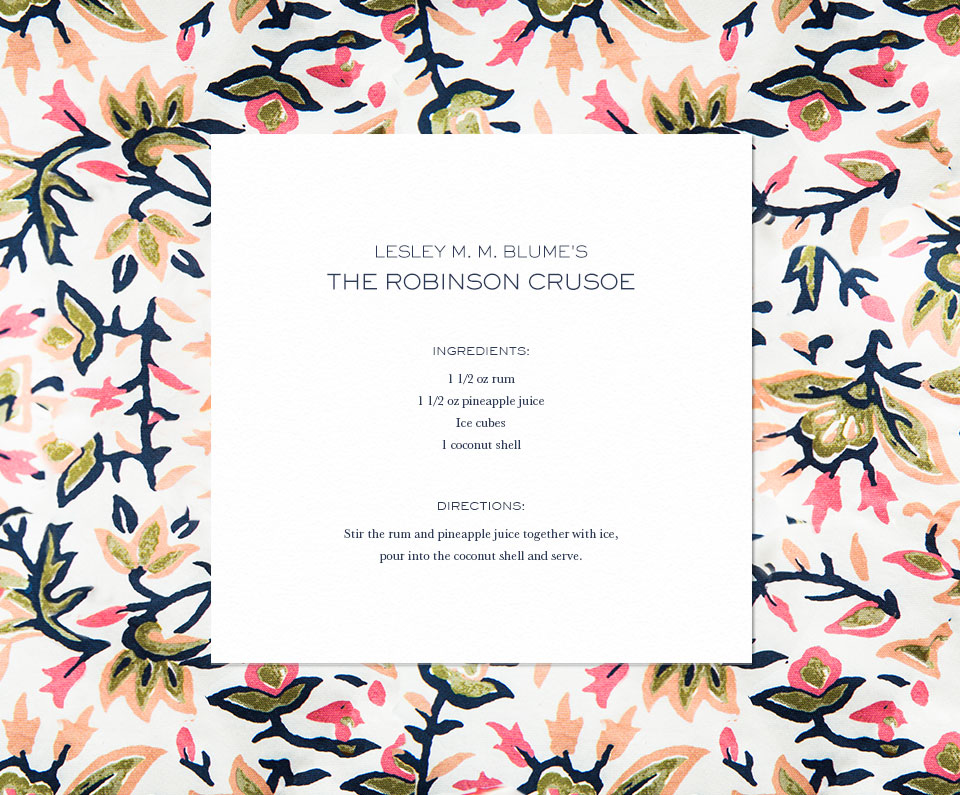 The author of the Let's Bring Back book series — including the delightful Cocktail Edition — shares the recipe to her favorite beachside libation (above) and dishes all things sun and fun…
This is the perfect beachside cocktail…
Because it's transporting and sublime but also pretty kitsch. I love things that are exotic and glamorous, yet a little bit silly at the same time.
The perfect beach grub to go with it…
Obviously spicy Chex Party Mix. They serve this delectable at the Half Moon resort in Jamaica, and it's divine with sweet drinks like the Crusoe or a piña colada. You should preferably imbibe these cocktails and eat this Chex Mix while sitting beneath the framed will that Jackie Kennedy wrote on the hotel's stationery: It hangs in the regal, balmy open-walled lobby.
My beach style…
Fluttering caftans that billow out behind you as you sweep imperiously around the pool or stride up the beach.
And when it comes to accessories…
Definitely head scarves. Once again, we can take a note from Jackie K. and her sister Lee Radziwell, who rocked this look especially well while on jaunts to the Amalfi coast.
Bikini vs. maillot…
Maillot, personally. Although you can't go wrong with an Ursula Andress-in-Dr. No bikini, in my humble opinion.
If I'm stranded on an island, the one book I'd want with me…
I'm afraid that I would have to arrange to get stranded with my whole library, which currently contains at least 3,000 books. I really can't play favorites; it wouldn't be fair.
My favorite island or beach getaway…
The Maldives, because it really is paradise at the far end of the earth. You feel incredibly remote there… you might as well be on the moon. I went there on my honeymoon; we stayed in a house on stilts in the sea, and at night a ghostly flock of stingrays would gather around the house.
And favorite fictional beach getaway…
While not fictional, it's definitely literary: the beach that belonged to Sara and Gerald Murphy on the French Riveria in the Twenties. On that beach and in their beachside villa, the Murphys entertained some of the greatest creatives of that era, from Picasso to the F. Scott Fitzgeralds. And did so before the Riveria was a tourist destination, and before sunbathing was an art form. They sort of invented a particular sort of beach culture.