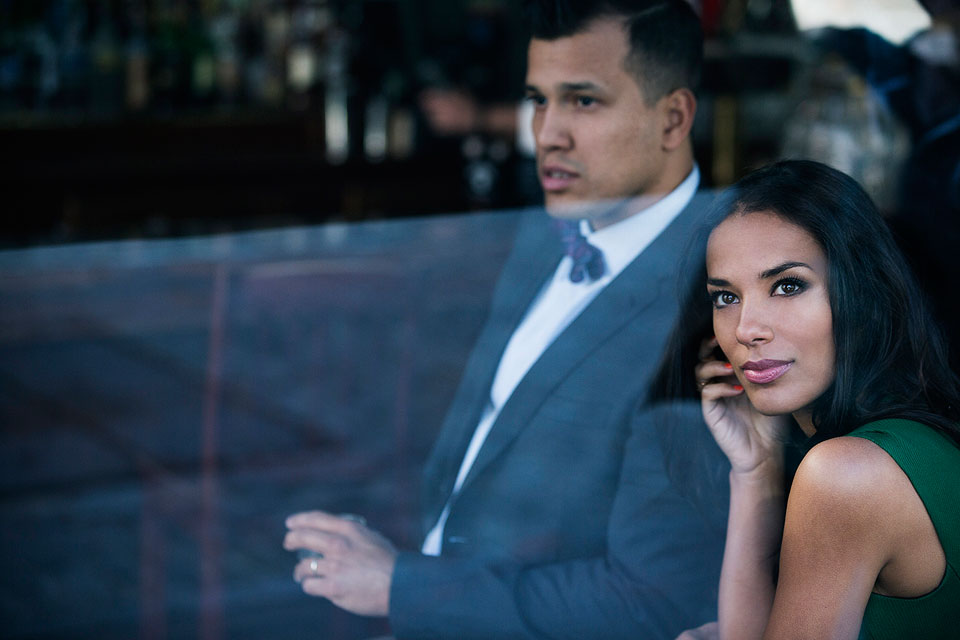 She's the daughter of Donna Summer and composer Bruce Sudano. He's the Nashville musician who met her through friends — and then asked her out over MySpace. Together, Abner Ramirez and Amanda Sudano are the husband-and-wife duo behind the band Johnnyswim and, a year after their popular EP Heart Beats hit the airways, they're finally releasing their debut album Diamonds tomorrow. We chat with the couple here.

I knew I wanted to be a musician when…
Amanda Sudano: I honestly never thought I could be one until I was much older, because I always had a raspy little voice and thought "real singers" all had to sound like Disney princesses or Julie Andrews. As I got older, I learned to accept and appreciate what I could do because, ultimately, I loved singing and writing songs so I figured I'd have to get over it.
Abner Ramirez: As soon as I was aware it was an option. So maybe at seven years old? But it became an active, real-life pursuit my junior year of high school when I started writing songs. It's all I've wanted from that moment.
Growing up, I listened to…
AS: Joni Mitchell and her Blue record. I loved how pure her voice was and the way she could tell a story. Even when I didn't understand it fully, I still was able to connect because it always felt honest. A Case of You is one of my favorite songs ever.
AR: Dave Matthews — I had a whole folder of every album and recorded performance. It was the first artist I really fell in love with and discovered on my own.
We write about relationships because…
AS: Songs about relationships definitely hit a nerve for us. Even our songs that aren't about a typical romantic relationship still tend to be in those terms. It's something that together we can relate to, even if we're not explicitly talking about our own relationship. Adelina, for example, is about Abner's mother from the perspective of his father.
The most unusual inspiration for a song…
AS: Abner started writing Annie years ago after his roommate at the time walked out of his bedroom and made footprints in his carpet. For years, we just had those first few lines, "The carpet still holds the shape of your feet from the last time I saw you when you walked away from me, oh, Annie." That was it. Years went by and a friend we write with, Britten Newbill, was going through a breakup, so the three of us finished it with that line and visual as the inspiration.
What to expect from Diamonds…
Our biggest goal is that it be as honest as possible. We've gone through a lot the last few years, so we have a lot to share with this one.
Favorite places for live music in L.A., Nashville and New York…
The Hotel Cafe in L.A., the Ryman in Nashville, and Rockwood Music Hall in New York.
Our pre-concert ritual…
Vocal warm-ups, yoga stretches, whiskey and a prayer.
One guilty pleasure song…
Come & Get It by Selena Gomez.
Of all the fake backstories we've given about our name…
There is a little truth to a few of the stories of our band name, but at this point we can't keep track of how many are floating around. My favorite version is one about a gold fish with narcolepsy. A real truth nugget is that Johnnyswim was our nickname before it was our band name.