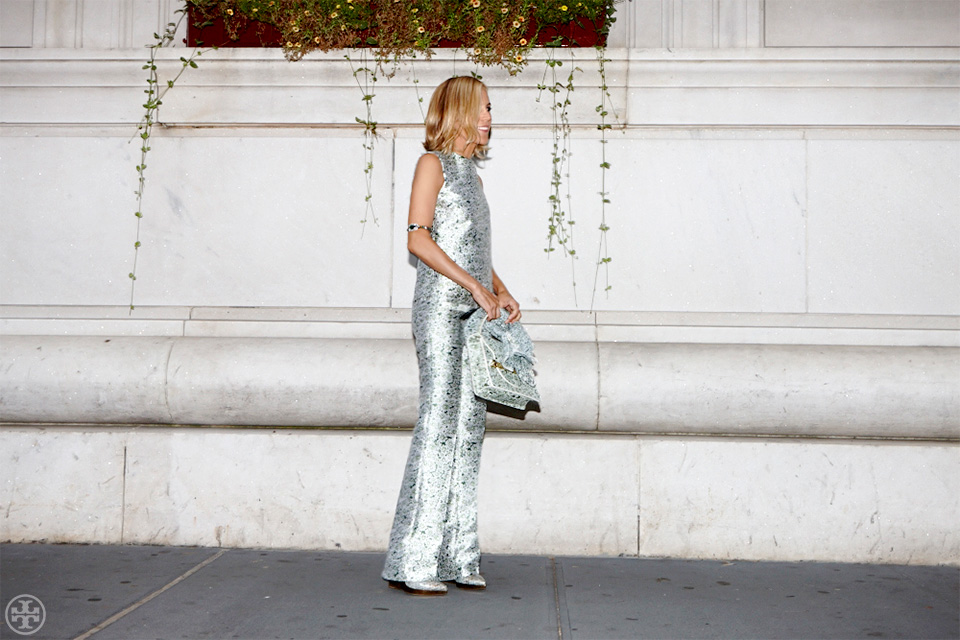 Tory offers a glimpse into Summer 2014.
What inspired Summer 2014?
My love of gardens, and my own one as well. We liked the Sixties feel we started with spring so that continues here too. Shapes are clean; hemlines, either short or long — no in-between.
What are you wearing in this picture?
Our Jessa top, Eliana pant and Maquis bag. The allover digital print is based on a photo I took of the Queen Anne's lace flowers behind my house. I love how it shimmers on silk gazar. And I'm very into matching head-to-toe prints right now. I think it elongates a woman's frame.
What other prints can we expect?
We did other flowers from my garden and also found inspiration in old
botanical diagrams
and
blueprints
. We experimented with different styles, too, everything from block prints to hand-painted ones.
Lattice
is also a big story for summer — we re-imagined traditional trelliswork, for example, as a
perforated leather jacket
. It's all very light, airy and graphic.
What are the colors of the season?
The color palette is really crisp and fresh. A lot of white and greens.
What about the accessories?
Shoes are mostly flat, but we also have some with a chunkier heel. It's about clean lines and a pointier toe. A lot of the bags are oversized — there's a garden tote I really love. It fits a lot but is also super-chic and elegant.
Can you tell us more about your garden?
Yes. In fact, I wrote a whole blog post about it. You can read it here.