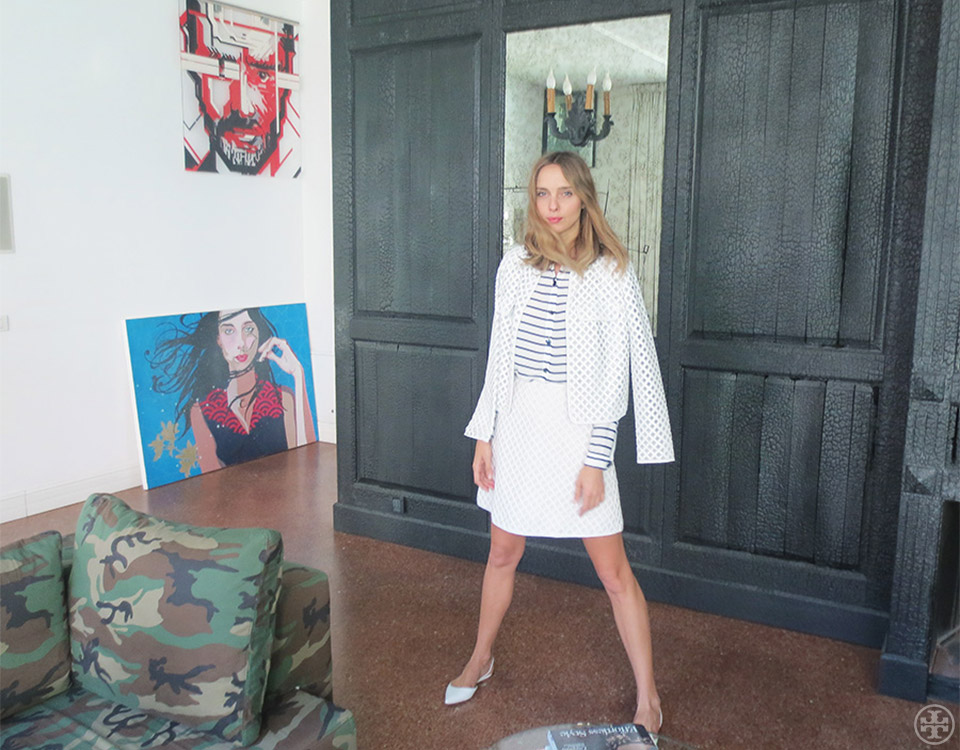 In a city filled with stylish girls, Milan-based Candela Novembre always manages to catch our eye. The Argentine model — who landed in Italy at 17 for a shoot with Bruce Weber — just has a knack for pairing prints and patterns. Her home, designed by her architect husband, is equally stunning — just check out their cool living room above, with its camo couch and striking paintings of the couple. We talk one-on-one with Candela, here wearing Tory's Kyra jacket and Alaina skirt.

My style is…
Going with what feels perfect for the day and trying to create a harmony between colors and shapes.
And my personal styling trick…
I always try to feel at ease with what I'm wearing. I can try on lots of beautiful dresses, but if they don't make me feel me, I might go for a simpler one even if it is not that pretty.
Best fashion advice ever received…
Anna Dello Russo once told me to enjoy what we do, the experiences we go through, the new projects we have, the way we dress. We can be women who work and are really professional but still enjoy and have lots of fun in the process. I believe that a happy mind and a happy soul are the best fashion accessories.
Film that shows Italian style the best…
I don't know if it shows Italian style at its best, but for me it felt so perfectly Italian: I Am Love by Luca Guadagnino, a movie I have truly loved.
First fashion memory…
The very first one is telling my grandmother, who used to be a dressmaker, how I wanted my pants to be tailored and picking out the material for a special party dress with her. I also remember endless afternoons going through my aunt's closet and trying on every single piece to find the perfect combination.
For the best architecture in Milan…
Personally, I think nothing can beat the Duomo — every time I pass by it, I find it breathtaking. I also enjoy the interiors of Villa Necchi. The good thing about Milan and Europe itself is that just by walking around, you'll find many different styles of architecture. Through the years Milan has always surprised me — and still does — with all its secret gardens and courtyards.
Best places to shop for vintage in Milan…
Cavalli e Nastri, Bahama Mama, Wait and See
Favorite architecture in the world…
Without doubt, it's our house — I call it Casa Novembre. It was built 10 years ago by my husband, architect Fabio Novembre.
And the inspiration behind the house…
To him, we are Adam and Eve so his idea was that we would live in the forbidden tree. Coming in from the street, you can see how the house facade resembles a tree. You can also see Sandro Chia's mosaic of a giant snake with an apple in its mouth on the ceiling of our kitchen. There are a lot of details that we built and choose over the years in keeping up this Garden-of-Eden spirit.
Best home decor advice ever received…
Actually I have never ever received any. It might be the having-an-architect-as-a-husband factor?
Every Italian woman has in her closet…
I guess it has to be the classic white shirt. I have lots and every time I travel, I pack at least two.