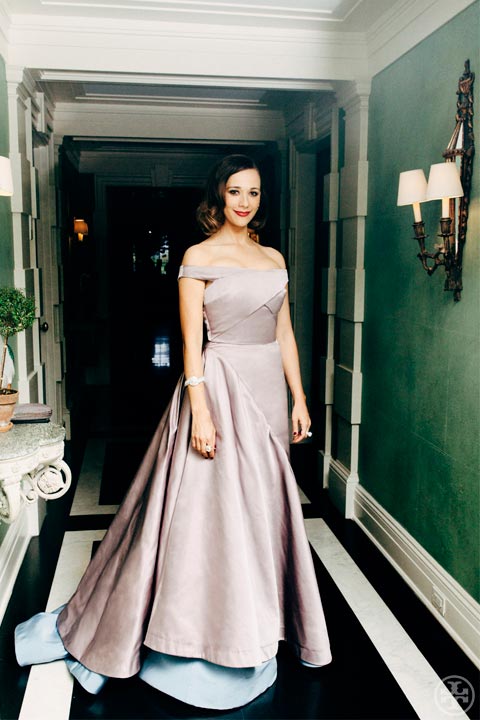 On Monday night Rashida Jones hit the Costume Institute's Met Gala with Tory, along with model Fei Fei Sun and Marina Rust. It wasn't the actress' first go at the event, though. Last time she went, back in 2012, she shared her day in the life with The Tory Blog, from 9 AM wake-up to 9 PM party. This time around? She gave us her expert guide to a flawless stiletto-shod, paparazzi-filled night. Here, wearing a custom Tory Burch gown inspired by Charles James, Rashida shares her tips on everything from how to approach your celeb crush to beauty do's and don'ts. 2015 attendees, take note.

When getting dressed, always remember…
You're never going to be comfortable! This night is all about fashion. Think of how many centuries women wore corsets. I can suck it up and handle Spanx for one night.
Makeup do's and don'ts…
For me, less is more. I like to look young so I overdo it with the moisturizer and water the night before so I look dewy.
The essentials to keep in your bag…
My stylist Brad Goreski always teases me because I have two phones and everything else you may or may not need for a crisis (Wet Ones, hand cream, headphones, tissue, Advil, etc.) shoved in my day purse. I will never feel like I can fit my essentials in a tiny, elegant clutch. So I settle for one phone, gum, a little cash and lipstick.
Person I'm most excited to see (and how I'll introduce myself)…
"FRANK OCEAN!! HI, FRANK OCEAN!! NICE TO MEET YOU, FRANK OCEAN!! I LOVE YOU, FRANK OCEAN! " And then I will quickly be escorted away by security.
Best ice breaker…
"DO YOU LIKE FRANK OCEAN?? I LOVE HIM." Again, escorted away by security.
Fail-safe topics for cocktail banter…
Always ask people what they're working on or how they are. Everyone likes to talk about themselves. And they'll walk away thinking, "What a thoughtful person!"
Best way to avoid falling down the Met stairs…
Oh Lordy, this has almost happened to me. I just make the decision to shuffle instead of walk for the entirety of the night. I'm more chess piece than athlete.
When photographers are shouting for your photo…
I usually try to tune it all out and think of something that genuinely makes me smile. The red carpet is hectic and feels like a trading floor with strobe lights, the opposite of something that would genuinely make me smile. I usually think about an inside joke I have with my sister or a good friend.
Above all else, never forget to…
Have a good time! Sure, you're standing next to supermodels and representing major designers, but ultimately it's supposed to be fun! That's what it has always been for me. Tory is the best hostess in this way; she likes to have a good time. I always stand up and dance during the performance (not everyone loves that) but come on, FRANK OCEAN.
And never be afraid of…
Going to the bathroom too many times before you get in your dress. Unless you have a "dress team," it's going to be reallllly hard to pee for the rest of the night.