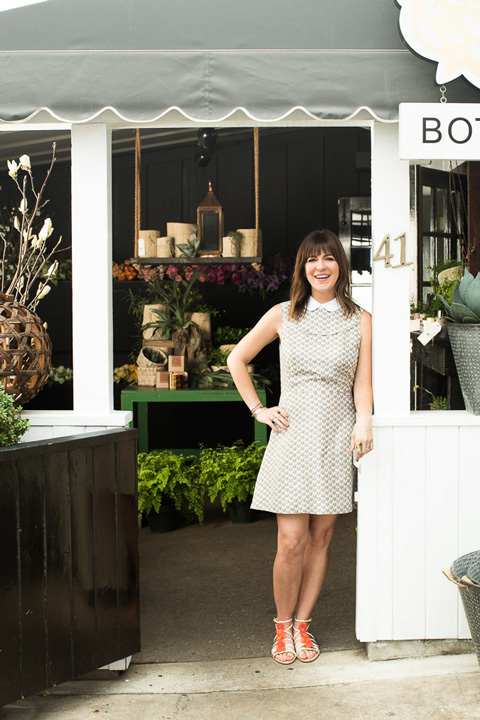 With its rustic vibe and buckets bursting with fresh blooms, Botany Flowers feels like a chic Parisian market — except it's tucked away in the corner of the bustling Brentwood Country Mart in L.A. The arrangements within are equally chic, striking a balance between elegant construction and natural simplicity. They're all the work of owner Stephanie Schur, who just opened an outpost in Pasadena and who, in a former life, was the fashion designer behind Michon Schur. Here wearing Tory's Fran dress and Bradford gladiators, she talks to us about her craft and even shares a few tips for creating beautiful arrangements at home.
I knew I wanted to become a florist when…
I found myself making more and more arrangements for friends and family and seeing how happy it made me and them.
My motto to floral design…
Allow the flowers to have movement and life. Be thoughtful about color. 
The key to a beautiful arrangement…
Is enjoying the process. The most beautiful arrangements I have ever made have been the ones I truly enjoyed making — when I slowed down a little, really thought about what I was doing and worked with flowers I really love.
To create a professional-looking one at home…
Make sure your stems are clean and there are no floating greens in the water. Also try to stay within a range of two or three colors at most. Too many colors can look too busy. 
My favorite spring arrangement…
I love all the spring flowers so it's hard to choose my favorite, but I truly love peonies, tulips, sweet peas and blossoming branches.
My favorite flower market in the world…
Is the largest one in the world — in Aalsmeer, Holland.
And favorite garden in the world…
Claude Monet's garden in Giverny, France, because when you are there you feel like you're walking through a Monet painting. Closer to home, I love the Huntington Gardens. So beautiful and inspiring.
 
Lately I'm inspired by….
All the amazing and beautiful ceramics and pots that are being made now. There are many talented potters who make incredible vessels that are so inspiring to fill.
And one example is… .
Frances Palmer. Her ceramics are pieces of art and inspire the most beautiful arrangements. 
My other inspirations….
Art, travel and what's in season. I get excited every time the season changes and I see all the new fresh flowers that are at the flower market.