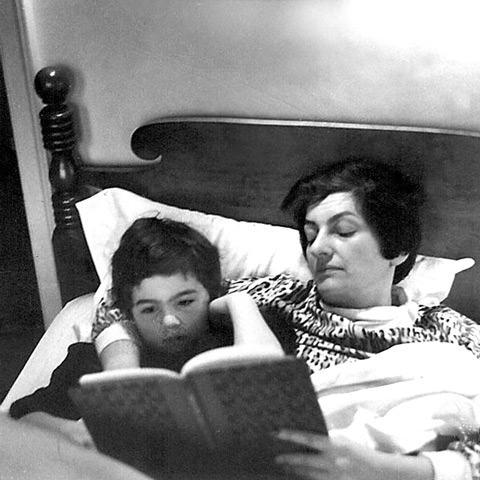 Ruth Reichl's CV is impressive enough. She's a renowned food writer, restaurant critic, editor, television and radio host — who also happens to have six James Beard Awards under her belt, among numerous other honors. Now she's adding one more notch to her list of accomplishments: novelist. Next week, Ruth debuts her first-ever fiction book, Delicious!, about a young woman moving to New York to work at a famous food magazine. We talk to the Manhattan native here, who takes us back to her childhood and — in the spirit of our Mother's Day Issue — shares a personal culinary anecdote co-starring her very own mom.
"My mother was a terrible cook, but meals at our house were never boring. Mom was an endlessly curious person who regarded each trip to the grocery store as an adventure. You never knew what she might bring home. I was certainly the first on my block to taste calves' brains (she scrambled them), chocolate-covered ants (disappointingly tame) and sea urchin. Actually, we never did eat the sea urchin; the spines were so scarily sharp we couldn't figure out how to approach the creature, and Mom ended up buying an aquarium for our new pet.
"But Mom's finest moment may have been the suckling pig. When I opened the refrigerator and saw that adorable little pink piglet staring up at me I jumped back, startled. 'It was sitting in the window at Ottomanelli's Butcher Shop,' Mom explained. 'I couldn't resist it.'
"When I asked what she planned to do with her purchase, Mom waved a hand.
'I have no idea,' she said airily. 'You like to cook. You'll figure it out.'
"I was 7.
"The truth is that any idiot can cook a suckling pig. You simply salt it and put it into the oven for a few hours, cranking the heat up for the last half hour to crisp the skin.
"'You see?' said Mom, as our family sat around the table, pulling off pieces of sweet, silken flesh and biting into crisp golden crackling. 'You're such a capable person. You're a wonderful cook.'
"I've always wondered if Mom did it on purpose, offered me a challenge that was easy to conquer to give me confidence as a cook. I suspect not. But in the end her motive doesn't matter: in that moment I fell in love with cooking, and to this day I have a special place in my heart for roast suckling pig."
Read more features from our Mother's Day Issues, past and present.