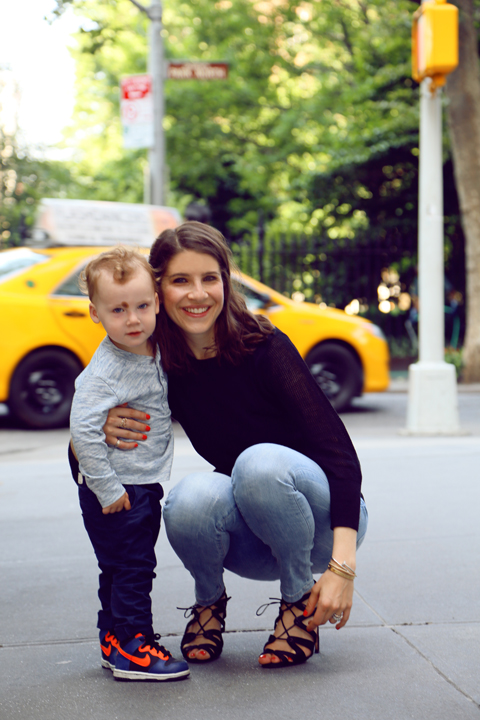 Motherhood is a constant learning experience — and new parenting resource Cricket's Circle aims to make the learning curve a little less steep. Founder and CEO Rachel Blumenthal shares her tried-and-true tips here, gathered from her own experience as mother to son Griffin.
1. G is for Green Juices
I convinced my son at an early age that getting green juices from the "Juice Man" in Union Square is a treat (spinach, kale, strawberry and orange is a favorite). He loves watching it get made and is starting to direct the juice man as to the color he wants the drink to be. Pink or red is the most recent request, which means extra beets for that added color and nutrients.
2. Apps!
Blinkbuggy — captures and organizes all of my photos and Griffin's art projects in one place. Postmates — delivers food and products in NYC and Brooklyn on-demand (black tights replacement between meetings and Blue Ribbon Sushi are two recents). GoGreenRide — car service with car seats. Easy to schedule, reliable and not offensively expensive. Uber – morning drop-off (to the far West Side) is now a breeze. And Net-a-Porter – I'm addicted to their "What's New for You" option.
3. The Miracle of Dry Shampoo
Mother or not, I don't know anyone who likes to do their hair every day. My husband thinks dry shampoo is the weirdest thing ever, and my son thinks it's snowing in the bathroom when I use it. Regardless, it takes what could be a 20-minute process down to two minutes. I use Klorane's non-aerosol when I want volume (and plan to wash my hair that night or the next morning), Blow Pro Faux Dry when I just need a pick-me-up and René Furterer Naturia when I need a more thorough lightweight job.
4. Streamline & Schedule
We have a regularly-scheduled Monday morning FreshDirect delivery with the same items every week; the same goes for monthly deliveries from Diapers.com and Soap.com. My hair stylist visits our apartment to cut our family's hair every six weeks, and I get manicures every Sunday night at 8 PM downstairs from our apartment. Griffin always tells me what color to get (this week it was blue fingernails and green toenails — not as bad as it sounds).
5. Standing Breakfast Date
I have a standing breakfast with a friend — Tuesdays, 8:30 AM. Knowing we'll see each other that day means 10 less emails back and forth to schedule, plus a perfectly civilized morning breakfast.
Read more features from our Mother's Day Issues, past and present.