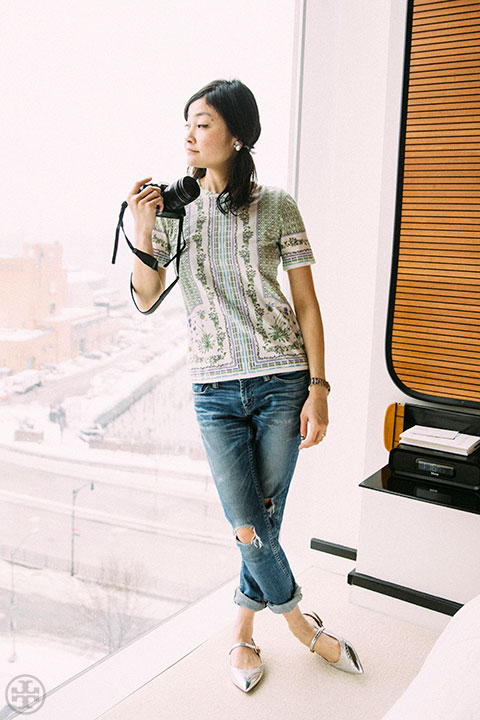 Rei Shito has made a career following street style, first at Japanese magazines like Fruits and Street, and then as the photographer and blogger behind Style from Tokyo. But she's also known for her own eclectic flair, oft-snapped by top street-style shutterbugs including Scott Schuman and Garance Doré. Here, wearing Tory's Mary tee and Bernadette flats, Rei shares her own photographic catnip and Tokyo musts.
Favorite street-style muse…
Vika [Gazinskaya], my favorite Russian designer and Phil [Oh], the stylish photographer.
Item I can't resist shooting…
Recently I can't stop focusing on unique nails.
Shoe I like to wear while shooting…
Any shoe without heels.
Print that always catches my eye…
Pattern-on-pattern mixing, like border and check, dot and leopard.
Camera of choice…
Fujifilm X-E2 and Olympus OM-D.
Favorite location to shoot…
Harajuku, Tokyo!
How street style differs in different cities…
In NYC, it's all about trends and comfort — pieces that are good for daily life. In London, style is powerful, created by people on the street rather than designers. In Paris, people are elegant and well put-together. And in Tokyo, I can find style made by street kids — it's sometimes mixed with Japanese new culture like anime, akiba-idol and so on. It's so unique.
Favorite photography book…
Scott Schuman's book, The Sartorialist.
Most scenic spot in Tokyo…
Tokyo City View at the top of Roppongi Hills. You can find everything in Tokyo when you are there. If it's nice and sunny, you can see Mount Fuji.
One thing you can get in Tokyo that you can't get anywhere else…
Disco — the most artistic nail salon in the world! It's a Tokyo original.