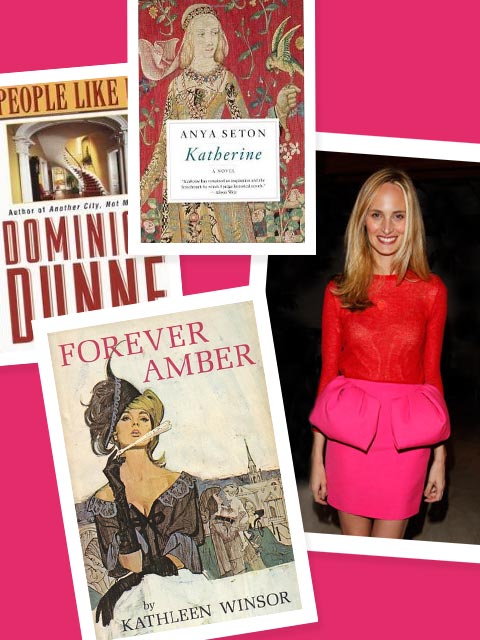 "Summer wouldn't be complete without a day at the beach, and a day at the beach wouldn't be complete without an indulgent beach read. This, of course, means different things to different people: romance, scandal, love, crime and even murder.
"Take all of the above, wrap it up in one nice little story, then add a dash of frivolity and decadence for good measure. That, my friends, is the ideal beach read. Here are a few of my favorites." — Lauren Santo Domingo, Vogue Contributing Editor and Founder of Moda Operandi
Katherine, Anya Seton
The first "grown-up book" I ever read. The author was my neighbor in Old Greenwich, Connecticut, and her novels were spoken about in hushed tones around us kids (probably something to do with all that adulterous romance).
Forever Amber, Kathleen Winsor
The story of 16-year-old Amber St. Clare, who manages to climb to the highest position a woman could achieve in Restoration England. I always picture Angelina Jolie as the title character — only she could portray a character as cunning, reckless and seductive as Amber. Did I mention it was banned in Boston for its sheer sexiness?
The Custom of the Country, Edith Wharton
I know what you're thinking: Wharton, what's next, Chaucer? I'll spare you the literary lesson; The Custom of the Country is just as scandalous in plot and character as any juicy Jackie Collins scandal.  
 
Gone with the Wind, Margaret Mitchell
Scarlett O'Hara is the most unlovable/lovable character ever written. As good as the movie is, the book is better.
People Like Us, Dominick Dunne
Had Wharton lived during the Eighties in New York City she would have appreciated this classic tale of Old Money vs. New Money. I also suspect she would've known exactly whom this cast of thinly veiled characters was based upon.
Nicholas and Alexandra, Robert K. Massie
This is a beautiful and moving book about Russian history, politics and culture, but more than anything, it's a love story. Massie paints a picture of pre-revolutionary Russia, a lavish world full of treacherous figures that tear apart two young, naive lovers.
American Eve, Paula Uruburu
Miley Cyrus has nothing on Evelyn Nesbit. Considered to be the first supermodel, sex symbol and modern celebrity, Nesbit was the most photographed woman of the Gilded Age. This story has it all: sex, scandal, drama, a high-profile love triangle and of course, the "Crime of the Century."
Nemesis, Peter Evans
This book will shock most Americans who were raised in Camelot-worshipping households, like myself, where the Kennedys were sanctified figures. Evans shatters whatever pristine image you have of the iconic family with his investigative and scandalous tome on the Kennedy-Onassis-Kennedy love triangle.