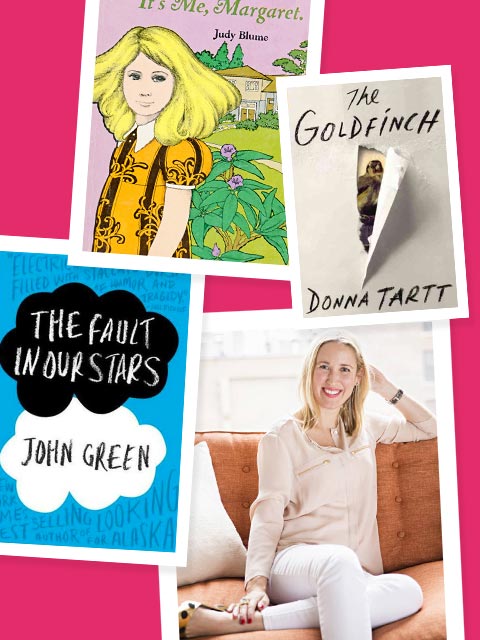 We chat with the Editor in Chief of PureWow, who shares her expert guide to throwing the perfect book-club party. There's more than just picking the perfect book (although she gives her tips for that, too). Here, Mary Kate spills the details on everything from decor to cocktails to conversation ice-breakers.

The key to a good book-club gathering…
Cocktails, first. Great people, second. Seriously though, I think the trick is to keep the number of people to a minimum. While there's nothing more that I love than a raucous party, it's near impossible to dive into a book and share the experience of reading it if the group is too big.
And the perfect number of people…
With six, side conversations are kept to a minimum. People — usually — stay on focus! Also, keep the group diverse. A good book club isn't necessarily your closest friends; sometimes it's more fun to have a newcomer with a wildly different background and a fresh perspective on what you're reading.
Most memorable one I've been to…
I can't believe I'd admitting this, but it would have to be the time that the entire group failed to read the book. The evening started out as it usually does — over a cocktail and appetizers — but then it became painfully, and hilariously, clear that no one finished the book. I just laugh thinking back now on the "discussion" we tried to have. I think we made up for it by drinking copious amounts of pinot noir.
To make any book party fun and festive, don't forget…
A drink or dish tied to the book. It sounds silly and cliché, but I think it's fun to really embrace the night. This is not your normal dinner party, I think a Tequila Mockingbird is in order.
And always remember…
I appreciate when someone takes the time to do a little research on the author or the setting of the book. A group historian helps ground the conversation and often offers insightful tidbits.
When it comes to the decor…
This is where I stay classic. Tons of fresh, big blooming flowers at the table. Candles. My prettiest table setting. And always a little take-away. My favorite is a Bernard Maisner bookmark.
Drink recommendations…
Sparkling water, an opened bottle of red and white at the ready and a cocktail to greet the guests. If I can tie it to the book, fabulous. (I'm still waiting for someone to agree to more young adult works so I can serve "Are You There God, It's Me, Margaritas.") But usually I take a more general approach: gin fizzes for Hemingway, etc.
And recommendations for food…
I've been crazy for this raw zucchini salad we featured in PureWow — it's the antithesis of a boring salad of baby greens. And instead of a cheese plate, which no one seems to touch, I've been setting out these highly-addictive baked green bean "fries." I dare my guests not to devour them.
Best way to start the conversation…
A quick round of "loved it/hated it."
Best way to involve people who didn't read or finish the book…
They are required to refill drinks. We sometimes play a game where they have to guess how the book ends.
My expert tip to picking books for the book club…
Vary length. For every Goldfinch door stopper throw in a lightweight The Fault in Our Stars.
My personal favorite book-club books…
The Impossible Lives of Greta Wells by Andrew Sean Greer, Goldfinch by Donna Tartt and The Vacationers by Emma Straub.
Last but not least…
My managing editor at PureWow, the incomparable Jillian Quint, recently wrote a fantastic story for the PureWowBooks edition on livening up a stale book club experience. You can read her four tricks here.