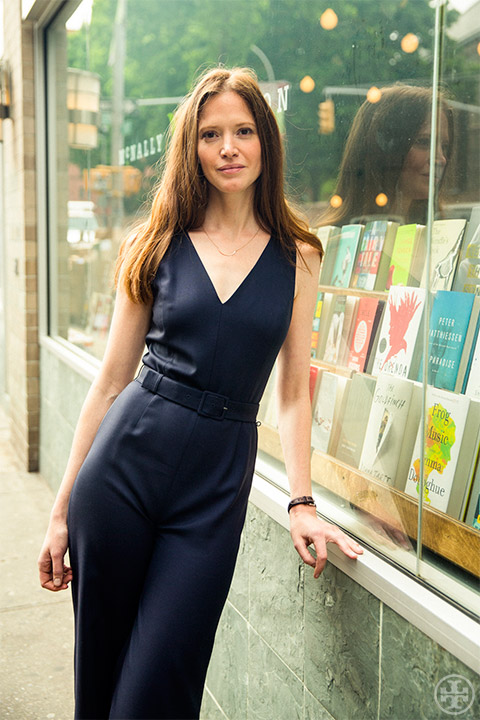 In a world where bookstore giants are closing venues left and right, Sarah McNally has done the near unthinkable. Since launching McNally Jackson Books in downtown Manhattan 10 years ago, she's not only thrived but has a new outpost in Brooklyn planned for the fall. And that's in addition to the satellite stationery and art stores — Goods for the Study and Picture Room, respectively — she opened earlier this year. Here, wearing Tory's Trinity jumpsuit, the entrepreneur talks shop and shares her secret to success.
When starting a company you must…
Truly believe in your business. If you really have a passion for it, then it will give you the critical judgement to evaluate your business and really exercise criticism at a granular level.
And never be afraid of…
I think a lot of entrepreneurs aren't afraid enough. The problem is, when you're excited, it's just like the beginning of a new romantic entanglement. You're not thinking of the things that might bother you or be problematic five years down. You have to have healthy fear or you can talk yourself into, for example, bad store locations.
Most exciting part about being an entrepreneur…
Complete control over everything. If you're inspired by something you can follow through and if you get sick of your own ideas, you can cancel them. It's really wonderful being agile in business, to make mistakes and learn from them. In other companies, you're trapped by other people's positions. They're more gun-shy when you go in your own direction and that direction tends to be abandoned rather than modified.
And most challenging part…
Having to prioritize justice over kindness. You have to make decisions for the group. At this point we have — without exception — extraordinary employees because we've gotten much better at firing people who aren't extraordinary.
Best business advice received…
"Another phone call is required," from Labeeb Abboud. Because you're surrounded in this world by people who don't do a great job, who don't call you back…
Book that changed my life…
Sentimental Education — and I'm not even a huge Flaubert fan. But there was something about it. I read it when I was in my early twenties and something in that book put things in perspective, in a way nothing else had.
If stranded on a deserted island, the one book I'd want with me…
That's easy — Proust's In Search of Lost Time. First of all because it's really, really long — like a million books inside the book. Second, the weird thing about Proust is that, no matter how many times I read it, I don't actually remember it. It's bizarre because I read and re-read it a lot. I love it and pay a lot of attention, but every time I remember maybe two percent. So it's perfect for a deserted island because every time it'll be like a new book.
New author I'd recommend…
Jenny Offill — she's funny, she's alive, she's doing something different. I feel like so much of fiction has been so heavily workshopped and technically perfect, but that ineffable spark of life is hard to find. In her book Dept. of Speculation, she doesn't bother with any of the formalism. All she has is that spark of life dancing around.