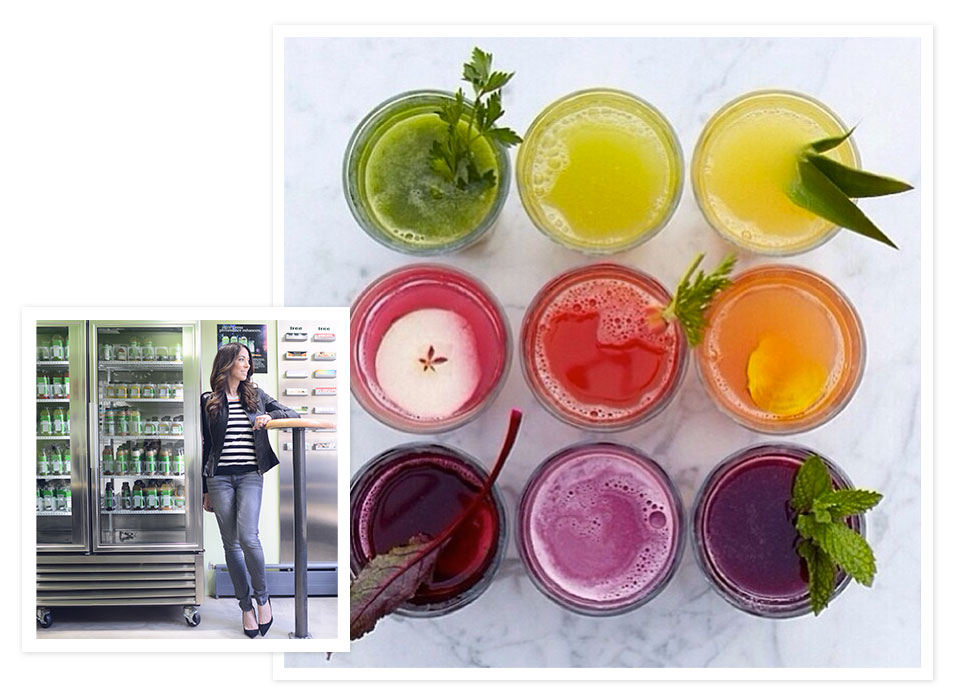 Here's one Insider's Guide juicing novices and veterans alike will want to read. Roxanne Palin, who oversees Marketing and Communications for New York's Juice Press, shares her healthy living tips and a little juicing 101.
Juice novices should begin by…
Trying a sweet green juice, like our
Love at First Sight
, or try my go-to smoothie,
Fountain of Youth
. Both are on the sweet side (and are loaded with nutrients), which makes them an easy way to get into the brand and the concept of juicing.
One common misconception…
People assume all sugar is bad; however, that's a misconception. The sugar you ingest from fruit is different from the refined sugars in processed foods and is metabolized differently, and each body metabolizes sugars at a different rate.
For a boost of energy, I recommend…
Rocket Fuel — it's a healthy energy shot, made from pear juice, guayusa concentrate, lemon juice, ginger juice and maca extract. Guayusa tea is a caffeinated tea (contains as much caffeine as one cup of coffee) from the Ecuadorian amazon, similar to yerba matte, but is known for providing balanced energy. Maca is a Peruvian root stimulant, that you do not feel a crash from.
And also…
Sweet wheatgrass — this juice makes it easy to drink wheatgrass! It not only gives me a burst of energy, but it's also my go-to skin juice.
To feel a juice cleanse difference…
There are so many ways to cleanse — and, no matter what your choice, you can feel a difference fairly quickly. Marcus [Antebi, CEO and Founder] will tell you that to feel a benefit, you need to do 10 days or more. For me, I like to do three-day cleanses periodically to keep myself on track — they're manageable with my lifestyle (I work and am raising three children). It helps me feel energized and focused — and at the end of the third day I feel clear minded and accomplished. There is no right or wrong with your choice. You can make your cleanse what you want it to be.
To live the Juice Press life at home…
I am always well-stocked with Juice Press so that my family can grab a juice or a smoothie throughout the day as a healthy snack choice. We always try to buy as much organic as possible (especially important with your fruits, meat and poultry) and local. I also always read the ingredients listed on packaged goods, and I know it's a red flag when I cannot pronounce some of the ones listed.
Ingredients every healthy home kitchen should have…
Chia seeds! I make a glass jug filled with water, coconut water, chia seeds and fresh lime juice. Chia seeds contain omega 3s, calcium, protein and fiber. At first my kids were hesitant to try it and when they finally did, they loved it. My family and I are crazy about Juice Press kale chips; they are the new potato chip! I also love to have cut and rinsed fruit and veggies handy, so I can always have a healthy snack option.
My go-to healthy summer lunch…
A refreshing kale salad! I am so excited for our new Tribeca and 55th street stores, because they have made-to-order salads.
Recommended books/ to read to live a healthier life…
Your Healthy Journey by Fred Bisci, our founder Marcus' guru; Superfoods by David Wolfe (this a great quick guide through all the superfoods and their benefits) and The China Study by Thomas Campbell (explains the connection between diet and disease).