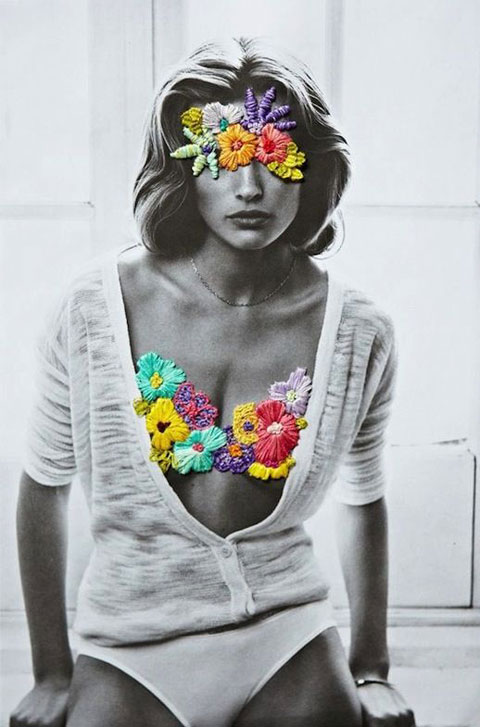 Beautiful black and white images, a shock of colorful embroidery — the pairing is a signature for Chilean-born, Berlin-based artist Jose Romussi. Find his works on show at New York's Robert Mann Gallery and in the upcoming book Collage: Contemporary Artists Hunt and Gather, Cut and Paste, Mash Up and Transform, and read on to discover his top sources of inspiration.

I knew I wanted to be an artist when…
The people around me showed me life with art. I grew up surrounded by artists — my mother was a painter and my brother a designer. I decided to be an artist and have the same lifestyle.
My influences and inspirations…
All my artist friends. They are my real school — people who want to share creation and inspiration.
I'd describe my style of art as…
I am looking for it. For now, I just use thread and photography for my creations.
The theme I'm most drawn to…
Nature
Best career advice ever received…
When you want to create, just try to do it without limits.
My must-read art sites…
Twistedlamb, Tumblr, The Jealous Curator, Empty Kingdom and the magazine Juxtapoz.
Favorite museums and galleries in Berlin…
The Ethnologisches Museum and all the little galleries in the Neukölln area.
As an artist, I could never be without…
Open eyes, healthy food, a book and a pen — always ready to be inspired.
A good work of art should always…
Have the heart of the artist.