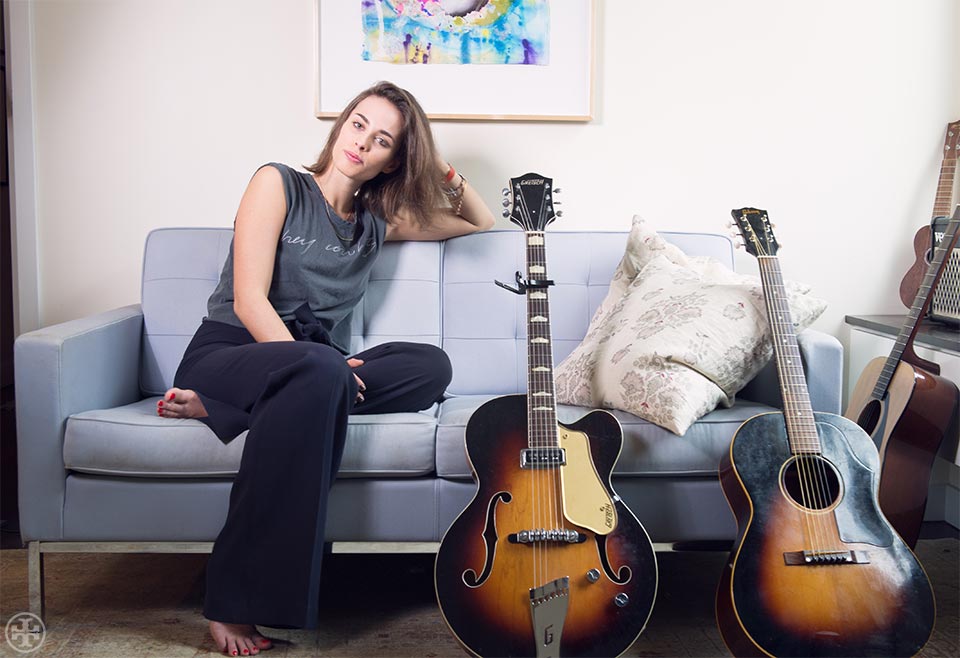 As the daughter of acclaimed writers Paul Auster and Siri Hustvedt, Sophie Auster could have easily gone down a similar literary route. Instead, she opted to carve out her own path in the music world. With two albums under her belt — and a third coming later this year — we chatted with the chanteuse, here wearing Tory's Cady pant, about new music, old music and on-stage style. If you're in New York, catch her soulful rock tunes when she performs live tonight at (Le) Poisson Rouge.

My new album, in a nutshell…
I think the title, Dogs and Men, really encapsulates the story. It's divided between very literal subject matter about relationships and songs that are far more mysterious and surreal. So "men" is the half about love and "dogs" came from all the references to animals on the more moody mysterious part of the record. I'd say in a nutshell: love and dreams.
The music bug bit when…
I was eight. I was in my school choir and my teacher went around the room one day listening to our pitch. She singled me out and made me sing the song alone in front of my class. I don't think I've ever been as nervous as I was at that moment, but she gave me the solo and encouraged me to sing.
And then…
I sang in jazz band after that and picked up guitar and piano shortly afterwards. I started dabbling in songwriting around my early teens but I didn't start writing seriously until I was around 16, 17.
My musical influences…
Tom Waits, Leonard Cohen, Neil Young, The Beatles, Nina Simone, David Byrne, Lou Reed, Lowell Fulson, Joni Mitchell, Otis Redding, Sam Cooke, Fiona Apple, Jeff Buckley, Billie Holiday, Carole King, Paul Simon and many more.
First album…
France Gall's self-titled album. I think I was particularly attracted to her photo on the cover. I loved her short blonde bob and red turtleneck. I memorized all the lyrics to that album even though I didn't know what she was saying at the time. Whenever a DJ throws her on I smile.
Album that changed my life…
The White Album by The Beatles.
My style on stage…
Lots of collars and suspenders. I want to look like Marlene Dietrich on stage, but it doesn't always happen because I don't have an expendable budget for Yves Saint Laurent suits, so sometimes I end up looking more like a Sixties folk singer depending on what I put together.
And off…
I think the more I perform the more my style on and off stage has become the same, except I wear a lot more jeans and t-shirts in my everyday life.
Musician whose style I admire…
Keith Richards because he's Keith Richards.
Most memorable concert I've been to…
Tom Waits in San Francisco when I was 11.
Best career advice ever received …
My grandmother told my mother this and my mother told me this: "Don't do anything you don't really want to do." It applies in life and in your career. It's simple but oh-so-wise. It's a good one.