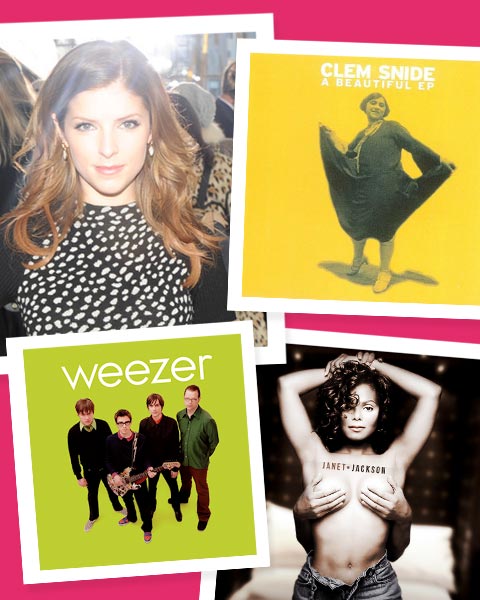 With two musical movies upcoming (Into the Woods, Pitch Perfect 2) and a Billboard hit (Cups) in her back pocket, Anna Kendrick knows a thing or two about singing. Here, she shares the album that made her want to be a performer — and details that time she entered a mosh pit.

First concert…
Oh, this is so embarrassing. My dad was a big Hootie & the Blowfish fan, so I went to a Hootie & the Blowfish concert with my parents. But my first concert on my own was Weezer, and I thought it would be fun to go into a mosh pit and I forgot that I'm 5'2″ and I can't do stuff like that. So that did not end well.
First album I owned…
That Janet Jackson CD, I forget the name, where the guy is holding her boobs. It was in sepia tone, everybody knows that cover.
Album that changed my life…
Again, another embarrassing answer but one that's absolutely true. Bette Midler's Experience the Divine made me want to be a performer. I love that.
Soundtrack to my life…
I really like this band called Clem Snide. The lead singer is Eef Barzelay; he does some solo stuff. I was introduced to him when I worked on my second film, Rocket Science. And I love his music — it's quirky and sad and joyful… it's sort of everything.
Best career advice ever received…
George Clooney always used to say you can make a good script bad, but you can't ever make a bad script good.