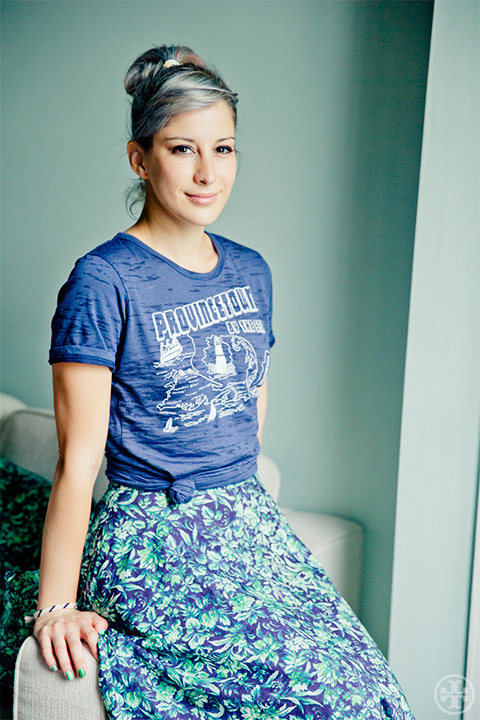 Meet Rachel Antonoff — fashion designer, print lover and sister of fun. guitarist Jack Antonoff. We talk to her about all things style and beauty, and why "fun" is an integral part of the day-to-day.
Top three rules in the Rachel Antonoff style guide…
Comfort equals beauty. Flats can be your best friend. And don't overly make up your face.
First print I fell in love with…
A swan-print fabric we used for [my first line] Mooka Kinney. It was a green, almost toile-esque print but with swans. We were just wild about it.
My sense of humor…
Could be summed up in a word: silly. I think silliness is very important and a huge part of the day-to-day fun of being alive. For me, it really does translate to style and fashion because I think when fashion is taken too seriously, it's kind of a bummer.
Fantasy career…
Surgeon
First fragrance memory…
I have a strong memories or pools and chlorine. I love the smell of chlorine and bleach and all those clean smells.
And favorite scent now…
Bleach.
Beauty icon…
My grandmother Anne. She possesses a quality that I don't have. She wants to look her best all the time. I need more of a motivation to look my best. She truly dresses and does herself up for herself. Her hair's always coiffed and pristine and nice; she goes to the beauty parlor once a week.
Best beauty/style advice ever received…
I always struggle about wearing this or that and someone said to me, "Don't take this the wrong way, but you never do not look exactly the same." It shed a lot of light because it's true. With our friends and family, we are who we are. Whether you put on a different skirt or a different hairstyle, you're still you. It's nice to remember that.