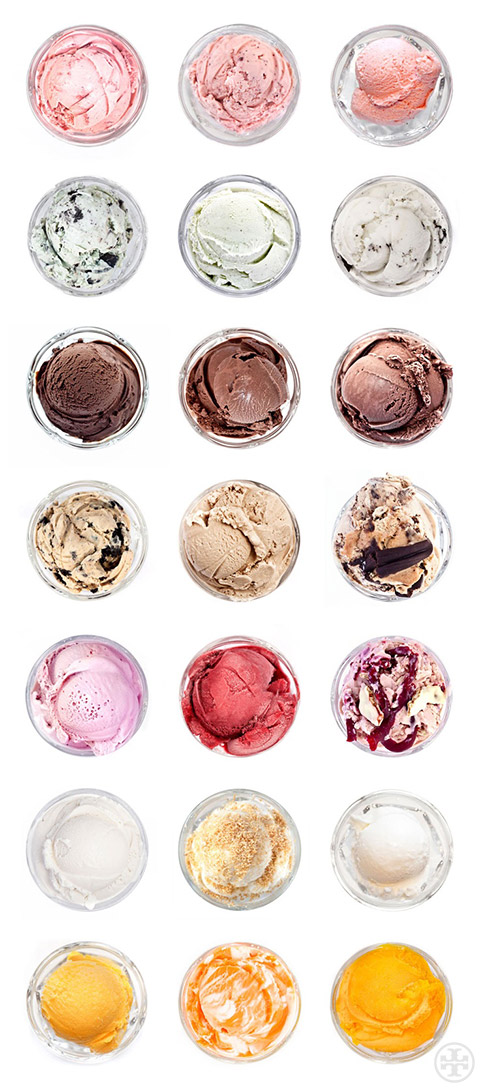 With the rising temperatures and summer officially upon us, nothing sounds better than a cone in hand. Here, we've gathered a list of our favorite scoops, just for your consumption.

Morgenstern's, New York
New on the New York 'scream scene, this retro-inspired parlor from a classically-trained pastry chef turns out creative combinations like burnt honey vanilla and champagne mango.
Bi-Rite Creamery, San Francisco
This Bay Area institution often has a line down the block when warm weather hits — for good reason. Grab a scoop of salted caramel and head for Dolores Park around the corner.
Fenocchio, Nice, France
Not far from the Mediterranean coast in old town Nice, score your South of France favorites — lavender, thyme and lemon verbena — in frozen form.
Jeni's, Columbus, Cleveland, Nashville, Chicago, Charleston, Atlanta
A beloved Midwest-based creamery with a cult following, thanks to its uncommon flavors and their creamy, rich texture. Whiskey & pecans or spicy Bangkok peanut, anyone?
The Creamery, Cape Town, South Africa
Find comfort in the homemade: this South African joint not only has a legendary peanut butter ice cream, it also follows the seasons and what's locally available, so you never know what they'll have to try next.
Bent Spoon, Princeton, New Jersey
A university town favorite — a line out the door is not uncommon — that churns up inventive house standbys like cardamom ginger and chocolate habanero.
Molly Moon's, Seattle
The most classic of flavors come with a twist at this West coast go-to — chocolate is "melted," while strawberry gets the sweet-tart complement of balsamic.
Murphy's, Dingle, Ireland
A seaside ice cream spot with a typical Irish name, Murphy's condenses consummately Irish flavors — Irish coffee, caramelized brown bread — into scoop form.
Taos Cow, Arroyo Seco, New Mexico
This ski resort location is a summertime hotspot, thanks to its Southwestern-inspired offering — think Piñon Caramel (vanilla ice cream with caramel and piñon nuts) and Café Ole (coffee ice cream with cinnamon and dark chocolate chunks).
Ample Hills Creamery, Brooklyn
Nostalgia, made fresh: Ample Hills' old-school ice cream options — orange dreamsicle, peppermint pattie, strawberries & cream — evocative of the soda fountain era have crowds flocking.