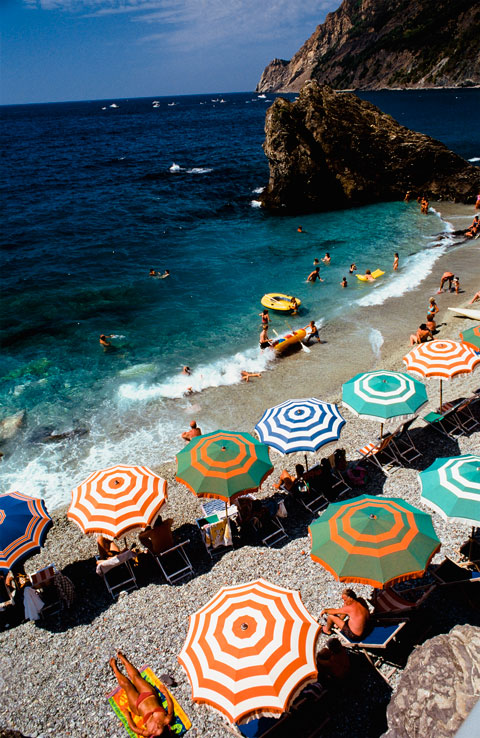 In search of some far-flung R&R? Here, we compiled a few of our favorite beaches around the world, from the Bahamas and Brazil to Italy and Martha's Vineyard.
Anse Source d'Argent, Seychelles
A far-flung location, a touch of flamingo pink sand and snorkel-ready waters, offset by towering time-worn granite boulders.
Baía do Sancho, Brazil
Emerald waters full of dolphins and turtles, cliffs covered in green… 200 miles off the coast of mainland Brazil you'll find this beach, which is widely regarded as the country's best, and only accessible by boat or ladder.
Hot Water Beach, New Zealand
Dig your own hot springs pool in the sand, just feet from the Pacific Ocean, thanks to nearby volcanoes.
Monterosso Beach, Italy
The sole sandy spot in picturesque Cinque Terre (left), nestled amongst rocky outcroppings and populated by festive striped umbrellas.
Moshup Beach, Martha's Vineyard
East coast charm, set among striking clay cliffs and grassy dunes — simply breathe in the sea air and relax.
Pink Sands Beach, Bahamas
The name says it all — this famous three-mile beach on Harbour Island combines a sea of blue with sand that matches the sunset.
Plage Mala, France
Riviera chic in an isolated locale — head down a cliffside flight of stone stairs to discover turquoise shallows and a dreamy view.
Playa del Amor, Mexico
Also known as Lover's Beach, this hidden spot is best reached by boat — and offers prime views of Cabo's famous Arch.
Sun Island Beach, Maldives
Paradise on earth, embodied: thousands of tropical fish, bungalows on stilts and blue as far as the eye can see.
White Beach, Philippines
On a speck of an island in the middle of the Pacific Ocean, soft sand that stays cool in hot weather and a line of swaying palm trees await.