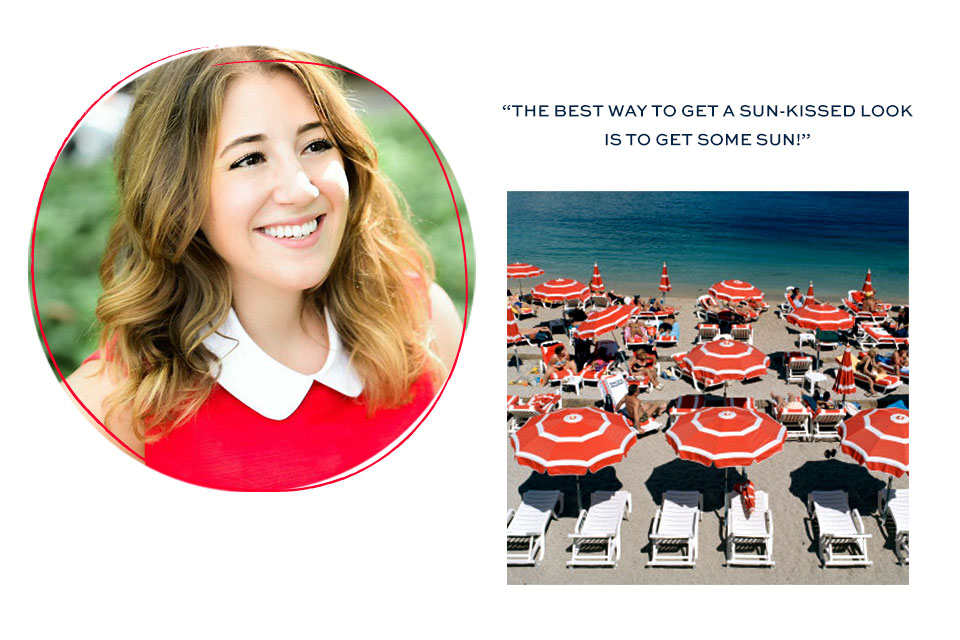 Salt air, a slightly sunburnt nose… these things might call to mind a long, relaxing beach day, but for Britt Aboutaleb, the Managing Editor of Yahoo Beauty, they're also things of beauty. Here wearing Tory's Kimberly dress, she chats beauty tricks and perfecting the sun-kissed look — even if you aren't at that beach, after all.

My beach beauty essentials…
Essentials? Sunscreen. But if there's some wiggle room around the word "essential," I'd throw in Huile de Leonor Greyl for my hair and Hei Poa Nacres Or — an amazing monoi oil with flecks of gold that gives the best glow.
Tips for the perfect sun-kissed look…
I like to go out straight from the beach in the summer — complete with salty, crunchy hair and a slightly sunburnt nose. I might swipe on some blush and highlighter, but the best way to get a sun-kissed look is to get some sun!
And to fake a natural beach look when landlocked…
Go all-natural. Use a tinted moisturizer and cream-based blush and bronzy highlighter to really let your skin shine through. I'm crazy about masks in the summer because no one wants to wear makeup in this heat; I want my complexion to be as clear as possible.
And natural beach hair in the city…
Just embrace your hair's natural texture. Add some salt spray and dry shampoo to rough it up a bit — but I think the big key is not trying too hard.
My personal beauty trick…
If you want your skin to glow — but not shimmer — press the tiniest amount of Elizabeth Arden's Eight Hour Cream onto the tops of your cheekbones. (I put it on my eyelids, too.) Immediate dewiness!
My beauty indulgence…
Facials. And not the ones where they rub like 10 lotions into your skin — the serious ones with extractions and oxygen and lights.
Favorite scent…
I love the salty smell of the ocean, probably because it smells like home (San Francisco), but also, who doesn't? And anything woody is great; it smells so warm.
Favorite place to spray perfume…
I'll spray most scents on my neck and wrists, but if it's particularly heavy I just spritz it into my hair.
My morning beauty routine…
I wash my face with SkinCeuticals Purifying Cleanser and splash on Ling Replenishing Hydrator before heading to the gym. After I work out and shower, I press Ling Oxygen Plasma into my face and slather on La Roche-Posay Tinted Anthelios SPF 50. As for makeup, I use RMS lip balm in Sacred as blush and Kevyn Aucoin's The Volume Mascara.
And evening beauty routine…
I mix it up — either all four steps of Somme Institute or Biologique Recherche's P50 followed by a lightweight serum. My skin is so oily that in New York's summer humidity, I have to be careful with moisturizers. I've also been really good about applying Dior's Crème Abricot before bed and my nails and cuticles look visibly different!
In my makeup bag I always carry…
Tom Ford's men's lip balm and a tiny tin of Nivea hand cream.
Best beauty advice I've ever received…
Wear sunscreen! From everyone ever. I know it's cliché, but there's a good reason.