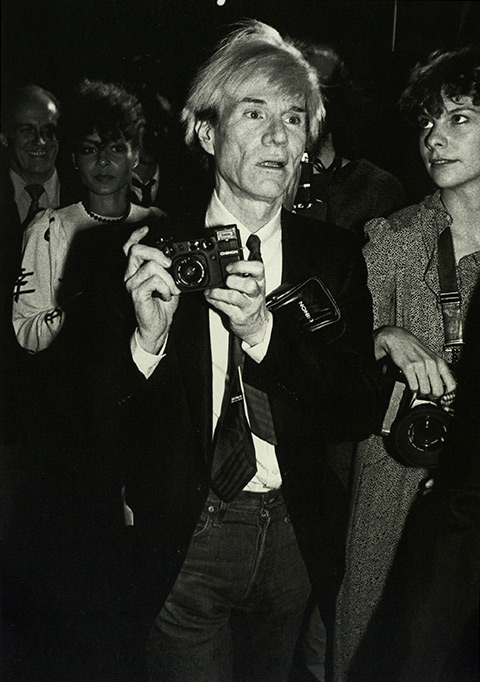 Happy birthday, Andy Warhol! As we celebrate what would have been the icon's 86th birthday, we look back at his career and get an insider's view with one of the men who knew him best: Bob Colacello, the longtime editor of Warhol's Interview magazine and author of the newly re-released Holy Terror: Andy Warhol Close Up. He takes us back to those years, when Studio 54 debauchery reigned, and gives us his unfiltered take on the artist and icon.
My book Holy Terror on Andy Warhol…
I wrote it over a couple of summers in the late Eighties and, once I handed it in, never wanted to read it again. I thought, I don't know why I wrote this book, it's too personal, too detailed, too vengeful… Now, I'm glad I did it when I was still very close to the material. I'm glad I left the emotions and wrote it as I set out to — which was to be as honest as I possibly could, not only about Andy and everyone around him but myself, too.
One thing I miss about my time at Interview…
I do miss editing a magazine. It's one of the most fun jobs in the world, especially at Interview, which was so unrestricted. We could interview pretty much anybody in any field. There was something great about being able to cast each issue as if you were holding a dinner party. And what was nice about Interview and — Andy's philosophy in general — was discovering new people. Andy was all about the kids.
And my time with Andy…
I really don't miss working with Andy or having Andy as my boss, but I do miss going to dinners and parties with him because he always had the funniest comments. He was like a naughty child who noticed immediately the one thing wrong with the picture, and would whisper it to me. And I miss his after-party critiques in the taxi ride home.
Favorite moment with him…
The moments I cherish most are the ones where we'd be in a hotel suite waiting for some appointment and he would suddenly open up about, basically, how sad he was and how hard it was for him to understand human relationships. Certainly, love was a concept that really eluded him. He was always trying to understand why other people were happy. When I would tell him that he should show a little more emotion and feeling to Jed Johnson, who was living with him, he would say, "Bob, if I let myself have emotions I would have a nervous breakdown." I believed him.
Favorite Andy Warhol saying…
I really love "Gee, we're really up there now." I loved when he used to tell me I should marry São Schlumberger because she was a great tub of butter. Andy would tell all the kids at the Factory who they should marry and that if we married someone rich, we'd be "falling into a great big tub of butter." He would also say, "Oh, let's make a magazine" or "Oh, let's make a movie." Andy had this vocabulary from Forties Mickey Rooney movies, and Mickey would always say, "Let's put on a show!" That was sort of Andy's philosophy: let's put on a show, every day.
On Andy and beauty…
His desire to be beautiful was palpable. He did such a good job of turning everybody into a beauty when he painted or photographed them. He knew from which angle to take the picture and how to manipulate the image so people would look their best. He was so aware of that, of wanting everybody to be a beauty because, if everybody was a beauty, he'd be a beauty, too.
On Andy and advice…
He gave very practical advice. If you wanted to be a writer but didn't know what to write, he would say to keep a journal of what you do every day. If you couldn't afford a great camera, he would tell you to take pictures with a second-hand camera and to just take pictures every day, no matter what.
My favorite party of the era…
Bianca Jagger's birthday at Studio 54. About 150 people, the guest list made by Halston with Steve Rubell. This white horse was led out by a naked black couple, their bodies covered in glitter so they were naked but not naked. I'll never forget Bianca coming out and getting on this horse — it was such a beautiful sight. She was still married to Mick, and I remember Mick dancing with Baryshnikov.
And other memorable fêtes…
Valentino's circus party, also at Studio 54. Of course, Valentino was the ringleader, with the whip. Another time the entire club was filled with palm trees and bananas. Bianca's second party there was a kiddie party — you had to come dressed as a child. Oh, and I remember another one where people dressed as nuns and popes and there was a conga line of transvestites done up as a Miss Universe contest.
The scene at Studio 54…
There was a sense of freedom in the Seventies, which came between the invention of the pill and the advent of AIDS. Not that we were all sleeping with different people every night, but you had the feeling you could, so romance was in the air always. And there was disco music. After Watergate, after Vietnam, the baby boomer generation had had it with protesting and these heavy moral issues. It was just a relief to be able to jump up and down and call it dancing, you know? Even the words to so many of the songs, like I Will Survive, were little anthems of freedom. You could dance by yourself or in a group, you could dance two boys or two girls — nobody felt weird. It just felt right. And new. You just felt free.
And the people there…
It was an incredible mix of people and generational differences. Everybody was there. World-famous tennis, soccer, hockey players. Half the ambassadors from the United Nations. Beautiful girls, beautiful boys. Rock stars, movie stars, Park Avenue socialites. Artists from downtown. And a sprinkling of drag queens.
The party that defined the era for me…
Elizabeth Taylor's birthday party at Studio 54. A thousand paparazzi. Andy, Bianca, Halston, Timothy Leary, Margaret Trudeau. The birthday cake — which featured a portrait of Elizabeth — was wheeled out by the Rockettes. Senator John Warner, who was her husband at the time, fled in horror at being associated with this crazy scene. Elizabeth cut the cake and sliced it right across her, let's just say, décolletage. I was with Diana Vreeland and said to her, "It's like the last days of Rome, Diana." She replied, "I should hope so, Bob. This is Studio 54!"
My next book is…
Volume two of my biography of Ronald and Nancy Reagan. The first one, Ronnie and Nancy: Their Path to the White House, came out in 2004. This one is about the White House years and Nancy's real role during her husband's presidency, which, I can tell you, was pretty big.