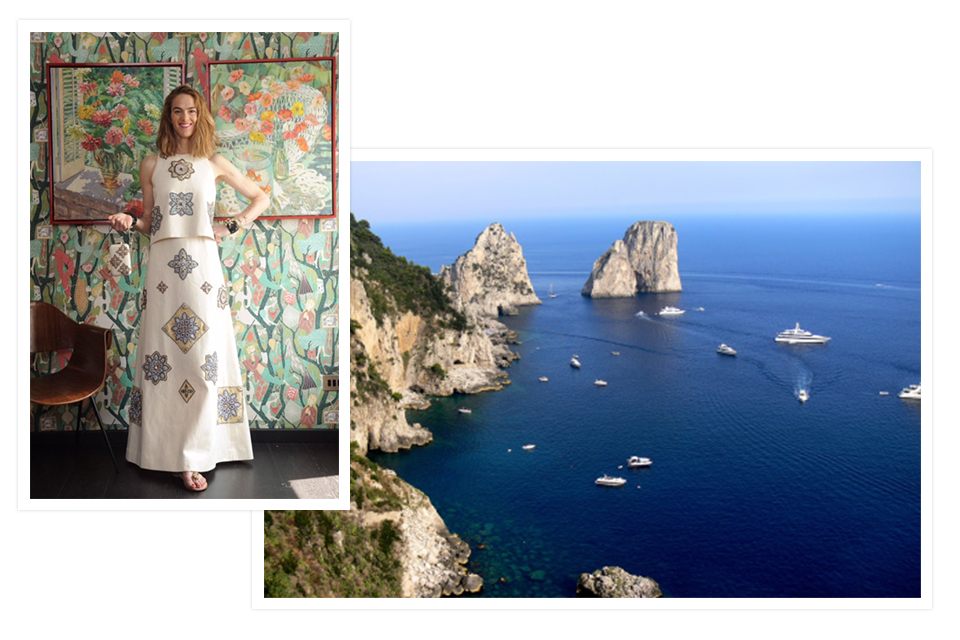 If you're anything like us, you're in a vacation state of mind right now. So join us for a quick jaunt to Capri with the ever-stylish J.J. Martin, Editor-at-Large at Wallpaper* and WSJ Magazine Contributor, who, above left, is wearing Tory's Camille gown and Jardin minaudière. She details her trip and, for those eyeing a Mediterranean escape, provides some packing 101 tips for it.

Capri is like no other place because…
It is an absolute pain in the neck to get to, but arriving is such a sweet reward. I am always blown away by the vivid colors and sweet fragrance of the landscape. Everywhere you turn there's a visual punch of peach, mandarin, fuchsia and turquoise, while your nose fills with a huge blast of exotic florals. It is paradise.
When packing for Capri, don't forget…
Flats, flats and more flats! No heels whatsoever, not even a wedge. I go for colorful sandals from Prada and Álvaro González and Valentino's leather woven espadrilles.
My personal packing tip…
When you're traveling inside Italy, carry-on is a must! I actually bring very little for these weekend trips and use a soft leather oversized tote from Boglioli. I keep all of my traveling cosmetics fully stocked in the same printed pouches so I never need to unpack or repack them.
And my carry-on essentials…
My cornflower blue Prada leather handbag becomes a takeaway office: MacBook Air computer for working, folders with interview transcriptions, iPod for blocking out the noise while writing, raw almonds and slices of turkey breast for snacking — I'm still on a no-gluten, no-sugar diet.
When I first get to Capri…
I was so spoiled this time in Capri as we were guests of Matteo and Susanne Thun, who have a stunning home on the cliff overlooking Marina Piccola. The very first thing I did when I arrived was drop my jaw and stare at the insane view of the sea.
To make my room my home-away-from-home…
I hung up my two brightly patterned long caftans (one vintage, one Tory Burch) from my terrace door's curtain rod, so that they looked like two cheerful friends blowing in the wind.
Best place in Capri for local treasures…
I love the local ceramics that they make on the island and in the surrounding Sorrento region. I brought back five ceramic lizards from a tiny shop called Eureka.
And vintage treasures…
Oddly enough, I have yet to find a vintage shop in Capri.
Secret only a local would know…
That famous dining establishment under the lemon grove has become a complete tourist trap so don't let anyone take you there. The outdoor bar at the Quisisana Hotel is also very cheesy. Stick to the traditional bars in the small piazzetta, and, by all means, spend a day at the magical Fontelina for lunch and sunbathing.
When in Capri, you must…
Climb the vertical mount from Marina Piccola up to the very top of Anacapri and take the chairlift down — it will be the most exhilarating 1.5 hours of your life.
My print-mixing strategy for vacation getaways…
It's usually without strategy and kind of out-of-control. Basically, I just pull out everything from the closet that has excited me lately. In this case, it was a huge vintage Leonard pareo in fab bold colors I got in Genova, a vintage cotton Mexican dress with a tablecloth print and a printed crop top and non-matching printed pleated skirt from MSGM that I wore on the plane down from Milan. Then I pull out some basics — clean tank tops, t-shirts and knit sweaters — to tone down all the mayhem.