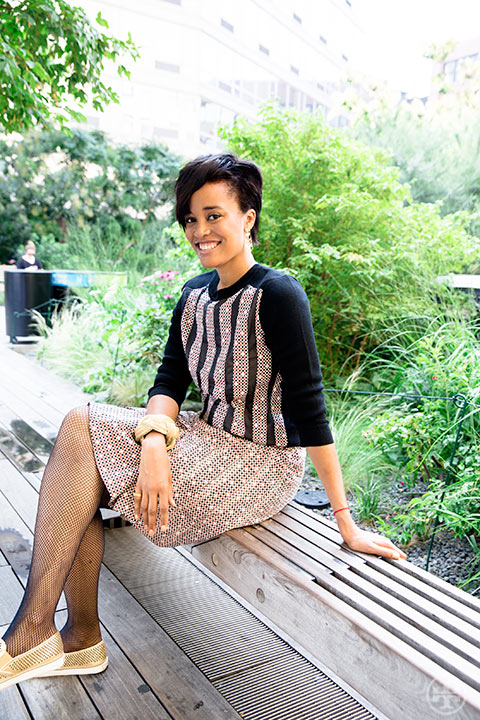 Felicia Gordon is a woman with a mission. The former lawyer ditched her day job to start her own art collective, the Harlem-based Sugar Hill Culture Club, and this summer has been spreading the word about New York fashion designer Wendell Headley. She recently published Where's Wendell?, a book of photographs featuring the avant-garde designer and his colorfully fantastical styles, and set up an exhibit, New York, Naturally, with his works to boot. Catch the show before it ends this weekend and keep on reading to learn more about Felicia, here wearing Tory's Kimba sweater, Floria skirt and Miles perforated sneakers. Plus, she shares some smart and savvy advice every would-be entrepreneur should bookmark — stat.

My company Sugar Hill Culture Club…
Is a Sugar Hill, Harlem-based art collective inspired by Eighties and Nineties New York, and the aesthetic that existed then. I call it refined street, with a little Paris thrown in. (I think there are many similarities between Harlem and Paris — both, for example, have incredible street art.)
Best thing about being an entrepreneur…
Being in service of others completely and being able to put a smile on someone's face.
And the most challenging…
Being in control of my time and how I spend it. I can't say, "Someone asked me to stay late in the office so now I can't do this…" If I don't do something, that was because of me and no one else. There is a certain level of stress that can develop as a result.
And how I overcome the above…
You have to remind yourself that every day is yours to make what you want and that's a gift — not a burden or reason to be stressed out. Sometimes I literally write down, "Being able to do this exhibit is a gift." No one is making you do it. You can choose to put it down and walk away. You have to see it in a positive light.
When starting a company, you must…
Have a point of view. I don't think there's a point in adding to the conversation unless you're adding something uniquely yours.
And that's important because…
It's hard to get people on board because they, more than anything, want to be inspired — whether they're working for you or buying your product. You can do that by having a strong point of view, believing in that consistently and conveying it with a level of passion.
Never be afraid of…
Failure — it's the one thing that paralyzes 90 percent of creatives. You can't be afraid to spend time doing something that might not ever see the light of day.
Best advice received…
My dad gave me great advice when I was complaining about people being difficult. He said, "You have to remember everyone is trying to do the same thing you're doing. They're also experiencing people who aren't doing what they said they were going to do. Everyone's juggling something." So take a step back and realize and trust and have the courage that things will work out in time.
Our New York, Naturally exhibit…
Is about the changing face of New York City and what it means to be "naturally" New York. It's our ode to the things and the people we believe make this city what it is but are increasingly taken for granted. It features works by avant-garde fashion designer Wendell Headley, digital mixed-media pieces by Imani Razat and photographs of Wendell by me.
And is done in collaboration with…
Broadway Housing Communities and No Longer Empty, which fills buildings — prior to occupation — with amazing art.
My backstory with Wendell…
I met him in Washington Square Park when I was around six or seven. I was drawn to him because of how he looked — he's someone who wears what he sews and what he sews is pretty elaborate. At the time he was wearing a headdress and strips of fabric all over his body. I remember being inspired by him as a child. Then recently, I started bumping into him again — on 42nd street, in Grand Central, on a subway platform…
And then…
I asked him if I could take his picture for the next year. He said sure, gave me his address and said I had to write him; he doesn't have a phone. I took photos of him for the next year and a half — he would dress up differently each time — and that became part of the exhibit. I also did a book with these photographs and it contains fragments of our letters to each other. I realized the value in having a relationship that's completely offline. You remember how to trust people. Because in a world where you can cancel with a text message, there's not much room to develop trust, I think.
Next up…
We recently collaborated with a German collective, Sure.is, on a line of shirts for creatives — anyone who does anything outside of the box, which is increasingly becoming rare.