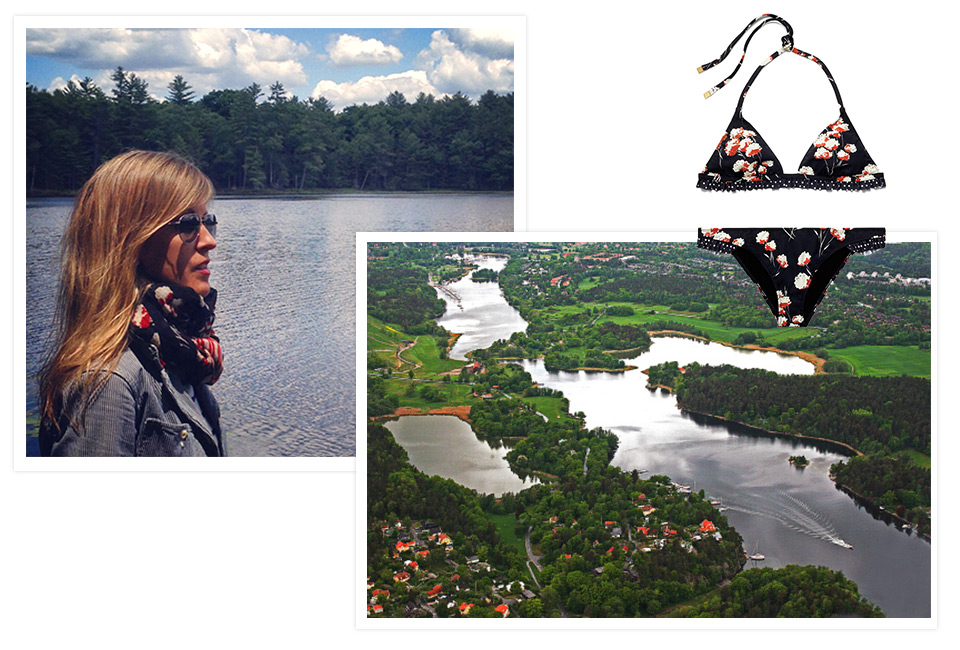 Sweden probably doesn't rank among your top destinations for idle sun-soaked days — but it should and Julia Leach, Founder and Creative Director of Chance, is here to tell you why. The New York-based designer, wearing Tory's Halland Field Flower scarf above, clues us in on why it's a summer vacation favorite. From beaches with breathtaking stretches of sand to the can't-miss cultural spots for gastronomes and art fiends alike, she shares all her leisure-loving tips.

Sweden is my summer getaway because…
It's magically serene, and the seaside life is the perfect balance of effortless chic combined with nature at its most beautiful. The archipelagos outside of both Stockholm and Gothenburg are dotted with thousands of islands and skerries, some windswept and rugged — especially at the outer edges of the Baltic Sea — and some tranquil and covered by dense forested pine, beech and oak trees and a multitude of flora and fauna.
And Stockholm is…
One of my favorite cities. It's so elegant, particularly in the summertime when the sun sparkles over the historic buildings late into the evening. Chatting with friends and people watching at the outdoor cafés into the night is exceptionally summery and relaxing.
Packing essentials…
White jeans, striped shirt, sun hat, zip-front vintage fisherman's sweater, bikini, boyfriend's white shirt to throw on over a bikini and a paperback book that can get battered by the water and sun.
Here I'm wearing…
Tory's Halland Field Flower scarf, 45rpm denim jacket and Oliver Peoples sunglasses
You might not know it, but the beach life in Sweden…
Exists! It's not all rocky coastline and woodsy islands.
The best beaches there…
Are found at the very southwestern tip of Sweden outside the town of Falsterbo, beyond Malmö in the Skåne region. The white sand stretches out uninterrupted, perfect for beachcombing and the area around the lighthouse is particularly secluded. There is also a beautiful beach at Tylösand, halfway between Gothenburg and Malmö on the western coast.
First-time visitors to Sweden must…
Explore Östermalm, a lovely neighborhood in Stockholm where the city's bustling food hall is located, along with excellent design shops (from Garbo Interiors to Jacksons) and the iconic store Svenskt Tenn, which features the textiles of Josef Frank. This area provides a nice introduction to the city and culture. Also pick up fresh bread for a hotel room or port-side picnic at Fabrique. Delicious…
And art lovers must visit…
The contemporary photography museum Fotografiska, my personal favorite, and the contemporary art museum Moderna Museet, which also has strong shows and a compelling permanent collection. I also recommend Konst/ig in Söldermalm for art books and Fotoantikvariat on Torkel Knutssonsgatan for vintage photography books.
Favorite local dish…
There are several classic Swedish dishes (pickled herring, meatballs with lingonberry jam, Princess cake), but my favorite is the most simple: gravlax with toast points and a glass of white wine at the counter bar at The Hip Pocket (Bakfickan), a small spot adjacent to the Royal Opera.
Cocktail to drink to be mistaken for a local…
Beer or, for something lighter, dagens, their version of a white wine spritzer.
Favorite places for local treasures…
I always pick up vintage glassware at À La Carte Antik on Riddargatan, caramels to bring home for friends at Pärlans Konfektyr and I load up on cool international magazines and books at Papercut on Krukmakargatan.
Most scenic spot…
Bohuslän coast, the region north of Gothenberg, with classic red homes and barns dotting the shoreline… Wonderful for sailing, especially Smögen.
One secret only a local would know…
A pair of slippers set on the first step of a jetty means someone is skinny dipping and you have to wait your turn. Proceed with discretion when going for a morning swim…