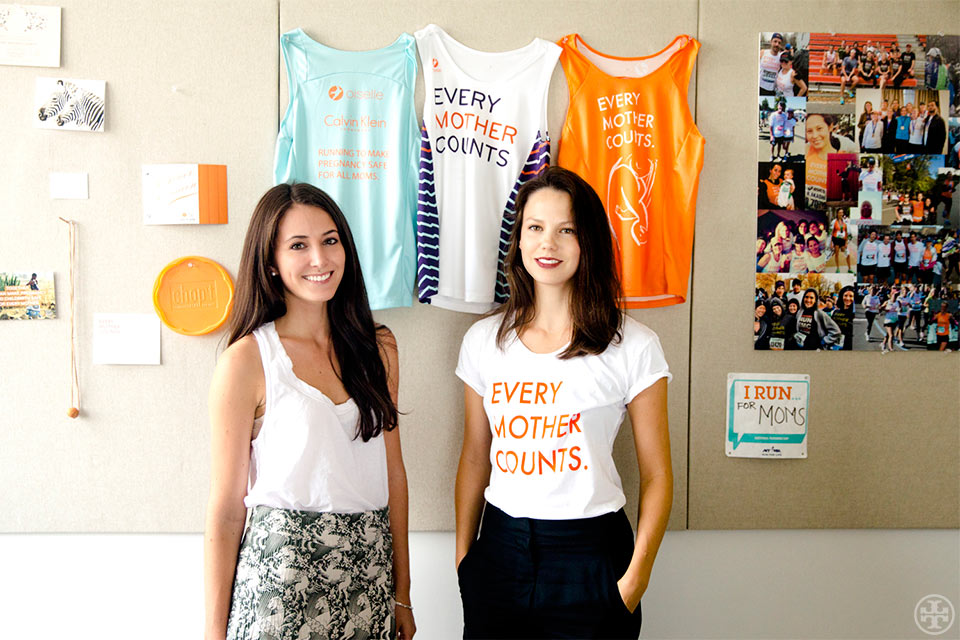 When Christy Turlington Burns launched Every Mother Counts in 2011 to combat maternal mortality (see the Tory Daily story here), it was a small but effective group. Three years later, it's grown thanks to the tireless work of women like Clancy McCarty, right, herself an assistant in EMC's infancy. Now the Director of Special Projects and Production, she travels the world creating poignant films that raise awareness. Here, she and her intern Kerry Izzo (wearing Tory's Juliana skirt at left) discuss what they've learned from each other this summer. For both of them it's about work ethic, a great attitude and being willing to go the distance… sometimes quite literally.
Clancy McCarty
Every Mother Counts,
Director of Special Projects and Production
Advice I give to interns…
Have a great attitude, say yes and put yourself out there. Even if you don't land your dream internship or job, there are many other places and areas you can grow and learn from that will help broaden your experience and build your work ethic. Also, be sure to follow up and write thank-you letters — the people that do definitely leave an impression.
One anecdote from my own internship experiences…
I decided to pursue social-issue documentary filmmaking after I graduated college, despite having interned in fashion for six years. I dove headfirst into pursuing a foreign and unfamiliar field, and I believe that display of dedication and work ethic from my fashion internships paid off and helped me get to where I am today.
If I could intern anywhere now, I'd intern…
With the many wonderful midwives I know! Ina May Gaskin at The Farm in Tennessee, Jennie Joseph at The Birth Place in Florida, Kitty Ernst at Frontier Services in Kentucky, Nadene Brunk at Midwives for Haiti in Haiti.
Ambition is…
Being motivated and pursuing your passion, while showing gratitude and respect along the way.
Working with Clancy and EMC is…
Amusing, empowering and a privilege. I never expected to work with such a passionate, driven and supportive group of individuals.
Most fun I've had on the job…
Running my first half marathon with Team EMC! For many women around the world, access to skilled birth attendants or basic medical care depends solely on their distance from these lifesaving services. Running with EMC gave me the opportunity to fully understand this barrier, as well as feel the remarkable power we all have by participating in one single action.
Biggest lesson learned so far…
That your internship is an extension of your education, so ask questions! I learned there is no wrong question, but understanding the importance of when to ask for help or advice is constructive and appreciated.
Ambition is…
Curiosity and drive fueled by your passion. I believe it is something we all need in order to succeed and make a difference. I am proud to intern at EMC because they are not only trying to change maternal health outcomes around the world, but they are dedicated to making a sustainable impact and to achieving something great.