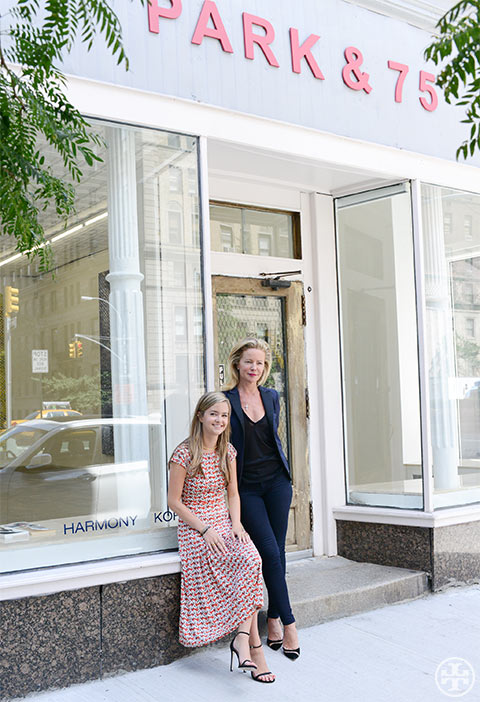 Whether it's overseeing the latest installation by Jeff Koons, Ed Ruscha, Harmony Korine or Damien Hirst or helping the next generation of artists find their footing, Christine Erpf is at the heart of the art scene here and around the world. The Art Dealer, right, and her assistant Lily Mortimer, wearing Tory's Sophia dress, know what makes a good Gagosian great — Lily was Christine's intern recently and Christine herself was an intern there in the Nineties.
Advice I'd give interns…
Focus, work quickly and with a good attitude and recognize that even simple jobs give you an opportunity to learn and get to know people. Also, be aware of your surroundings and take free time to inform yourself and be ready for a moment to show you know your stuff.
One anecdote from my own internships…
I worked as an intern at Gagosian Gallery in the early Nineties. The first job I was given as an intern was to reorganize the upstairs library. At first I thought, "Really?" I spent the better part of a week up on a ladder, shifting around heavy books. While doing a bang-up job reorganizing, I checked out some interesting art books and kept my eyes and ears open to what was going on around me in command central of the gallery. Great artists and collectors were coming and going and business was happening. A few weeks later, the gallery was looking for a new archivist and they hired me.
If I could intern anywhere now I'd intern…
At Gagosian Gallery.
Ambition is…
The key to succeeding and realizing your dreams. It's the fuel that makes things happen.
Working with Christine is…
Completely inspiring. She is dynamic, diplomatic, a brilliant salesman and seems to do everything perfectly and with great ease.
Most fun I've had on the job…
Working on the Harmony Korine show [at Gagosian Gallery Park & 75] and seeing how the gallery interacts with artists and their studios.
Biggest lesson learned so far…
That moving quickly, giving total attention to detail and being considerate make a big difference.
Ambition is…
To learn as much as I can from my coworkers and environment and always strive to do my very best.