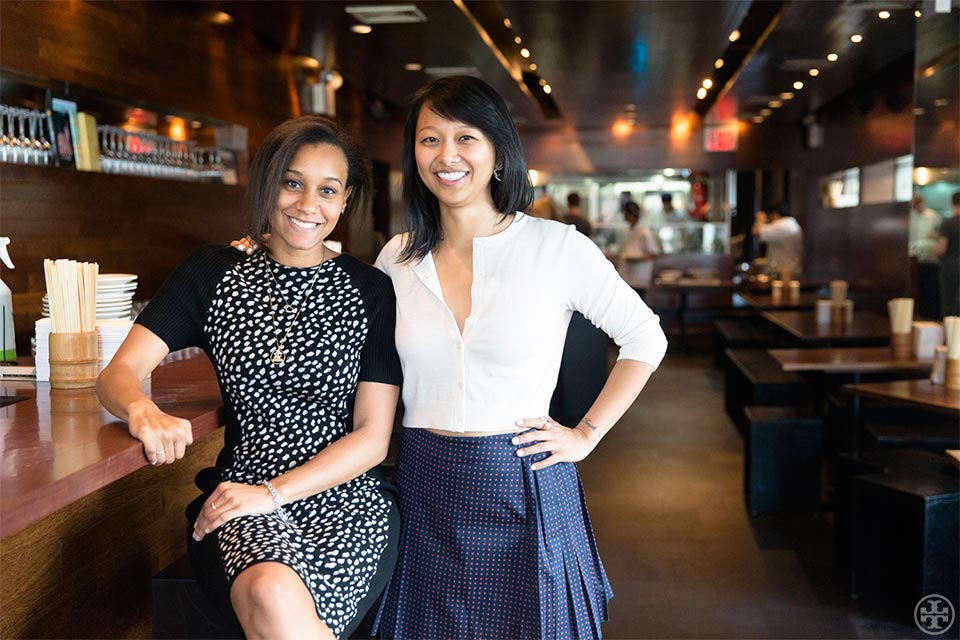 To say "Momofuku" in NYC is to elicit a Pavlov-like response among foodies for its inventiveness (don't miss Momofuku Milk Bar's winning Birthday Cake). As Brand Director, Sue Chan, right, wearing Tory's Petite Simone cardigan and Klarissa skirt, is at the forefront of everything new and exciting that chef David Chang and his mini-army are creating. She and her intern Nicole Bertrand, in Tory's Gemma dress, compare notes on ambition and confidence.
Sue Chan
Momofuku, Brand Director
Advice I give to interns…
Don't be afraid to ask for more work, share your ideas and give your opinion. If you do, you'll stand out. Opportunities come to those who are confident in their abilities and in their voice.
One anecdote from my own internship experiences…
I was an extern in the kitchen of The Spotted Pig for a month. Chef April Bloomfield taught me the important lesson of taking great care in everything you do. From the simplest task to the most important, every step matters.
If I could intern anywhere now I'd intern…
For Lucky Peach magazine. I would be a better person today had I been exposed to Founder/Editor Peter Meehan's brilliant and creative mind at an earlier age.
Ambition is…
Never giving up. And never listening to people who don't believe in you.
Working with Sue Chan is…
Incredible. It's amazing that I am fortunate enough to learn from someone who has been an integral part in building the Momofuku brand. I also find it admirable that in addition to her day job, Sue also founded Toklas Society, a networking group for women in the industry.
Most fun I've had on the job…
Was at the Lucky Peach James Beard Media Awards after-party. It was impressive to see how the PR and Events team made the magazine come alive. Not to mention, everybody who's anybody in the food industry was there.
Biggest lesson learned so far…
There is no such thing as a bad question. Asking questions not only helps you understand the assignment better, but it also shows your supervisors that you care, which then gives them more confidence in you.
Ambition is…
Wanting to be the most well-rounded person you can be. And always trying to seek out as much information and knowledge as you can.